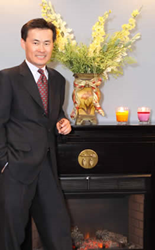 Garden Grove, CA (PRWEB) September 29, 2017
Dr. Jin Y. Kim is actively advancing the field of periodontics and dental implants through his research, development and the educational opportunities he provides to other professionals in the field. He lectures at local, national and international universities and associations, and recently spoke at the 2017 DENTIS World Symposium hosted by the Global Dental Implant Academy (GDIA) in Seoul, Korea. Not only is Dr. Kim a leader in the field, he is also a practicing periodontist in Garden Grove, CA.
Technology is changing the way people interact with the world around them, and that applies to the dental profession, too. As digital dentistry improves, patients are able to receive better care and solutions to oral health issues that may have gone undiagnosed and untreated in the past. A periodontist in Garden Grove, CA, Dr. Kim has dedicated his career to developing new and better ways to provide oral care to people who need dental implants, and educating clinicians on how they may also use these techniques to benefit their patients. His training in both periodontics and implant dentistry makes him uniquely qualified to develop new approaches to complex cases.
At the DENTIS World Symposium, Dr. Kim joined lecturers speaking on how digital dentistry affects implant trends through consultations, dental implant placement surgery, prosthesis construction and follow-up care. He shared his expertise in creating treatment plans and providing solutions for complex cases that may involve more than one periodontal health issue. He has also been the Co-Director for the GDIA symposium, the goal of which is to share clinical and scientific knowledge among professionals in the implant field.
In addition to his passion for improving the field of dentistry, Dr. Kim offers these advances to individuals who need dental implants. At his practice in Garden Grove, CA, the periodontist focuses on providing leading care to ensure that his patients achieve good oral health and a beautiful smile. To learn more about the services he provides, people can visit his website at http://www.drjinkim.com. Appointments can be scheduled by calling 714-898-8757 for the Garden Grove practice or 909-860-9222 for the Diamond Bar location.
About the Doctor
Dr. Jin Y. Kim is a periodontist dedicated to providing personalized dental care in Diamond Bar and Garden Grove, CA. Dr. Kim attended the University of Sydney Faculty of Dentistry before furthering his education with an advanced degree in pathology from the Medical School of the same University. Dr. Kim completed a periodontics and implant surgery residency at UCLA School of Dentistry. A uniquely dual board-certified specialist, Dr. Kim was board-certified by the American Board of Periodontology and the American Board of Oral Implantology/Implant Dentistry. The International Congress of Oral Implantologists and the American Academy of Implant Dentistry both gave him the title of Fellow. He was also inducted to be a Fellow of the prestigious American College of Dentists. Dr. Kim enjoys lecturing at UCLA School of Dentistry as well as national and international academic and clinical associations and universities including the International Association of Dental Research, American Academy of Periodontology and Academy of Osseointegration. To learn more about Dr. Jin Kim and the services he offers, visit his website at http://www.drjinkim.com or call 909-860-9222 for the Diamond Bar location or 714-898-8757 for the West Garden Grove location to schedule an appointment.