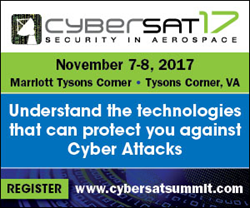 (PRWEB) September 29, 2017
The world's leading satellite publication, Via Satellite, has confirmed its speaker line-up for CyberSat Summit 2017, a new 2-day event dedicated to assessing the evolving threat of cybersecurity. The event will be held this in Tyson's Corner, VA.
Mark Holmes, Editorial Director of Via Satellite, has been working to secure the prestigious speaker line-up for this event. Here are the confirmed key speakers:
General John W. "Jay" Raymond, Commander, Air Force Space Command, US Air Force
U.S. Rep. Brian Babin (TX-36), a member of the U.S. House Transportation and Infrastructure Committee and the Highways and Transit Subcommittee
Kristen Lane, Senior Intelligence Analyst, Cyber Division, FBI
James L. Turgal, Executive Assistant Director, Information and Technology Branch, FBI
Calvin T. Roman, DR-III (GS-14), Manager, Space Cyber Resiliency, Air Force Research Lab
Vinit Duggal, CIO, Intelsat
Reza Rasoulian, Vice President, Global Connectivity, Carnival Cruise Line
Justin Fier, Director of Cyber Intelligence & Analytics, Darktrace
Robert Hickey, Aviation PM DHS/S&T Cyber Security Division, Department of Homeland Security
Philip Schoene, VP Operations, PBS
Tyler Cohen-Wood, Former Defense Intelligence Agency Senior Intelligence Officer
Laura Galante, Founder, Galante Strategies
Kevin Stine, Chief of the Applied Cybersecurity Division, National Institute of Standards and Technology's Information Technology Laboratory (NIST)
Renato Ortiz, Director of Governance Policy and Risk Management, Inmarsat
Norm Balchunas, Senior Director – Defense/Cybersecurity Services and Connectivity, Honeywell Aerospace
John Zban, CIO, SatCom Direct
Josh Hartman, Managing Partner, Renaissance Strategic Advisors
Jon L. Korecki, Executive Director of Strategic Development for Cybersecurity and Information Assurance, ViaSat Inc
Chris Childers, CEO, National Defense Group
To find out more and to register for this event visit http://www.cybersatsummit.com
About Via Satellite
For over 30 years, Via Satellite has provided essential news and expert business analysis on the global commercial communications satellite industry, including current and evolving applications, infrastructure issues, technology, and business and regulatory developments around the world. Top satellite executives from 160 countries read Via Satellite to fully understand the industry and maximize their companies' profits.