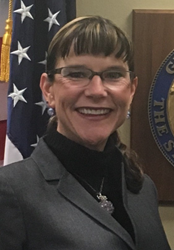 Hoboken, NJ (PRWEB) September 29, 2017
HRS welcomes Jenni Blendu RN, MBA, as the new Senior Director of Sales to continue the rapid adoption of the industry's most innovative telehealth program. Blendu served as an ER, Critical Care, and Home Health nurse for over 15 years and was strongly dedicated to keeping patients in their homes and promoting preventive medicine. With 15 years of experience in healthcare leadership roles, Blendu has fostered the belief that simple technology not only reduces healthcare costs but also improves patient outcomes.
Blendu also currently serves as the President of the Idaho Association for Home Care a volunteer position that further extends her desire to improve the healthcare delivery system. She is a strong sales and program director that loves working with people to create innovative and efficient health care deliveries.
"Providers using our solution have substantially reduced their avoidable hospital readmissions by making it easier for patients to stay in compliance with their care plan. Jenni brings a wealth of knowledge to the team from her years of clinical leadership in acute and post-acute providers," stated Bill Bassett, Vice President Client Services. "She is a great advocate for post-acute care and we are incredibly fortunate that she is part of our team as we continue our leadership in innovative telehealth care."
Blendu is a strong advocate for home care in State and Federal Legislation and served for two consecutive terms on her hospital Ethics Board and was the Founder of the Idaho Business Council. Currently, she serves as a member of the Boise Chamber Healthcare Advisory Board, is a member NAHCs Government Affairs Committee, and is very active in her community and with collaborating with other healthcare leaders in her state.
About HRS
Health Recovery Solutions (HRS) supplies leading home care agencies with the most advanced remote monitoring platform focused on changing patient behavior to reduce readmissions and improve clinical outcomes. HRS' disease-specific engagement kits are customized with educational video, care plans, medication reminders while integrated with Bluetooth peripherals to engage patients. For clinicians, HRS' software allows for the management of high-risk patients and provides seamless communication with them through video chat, wound imaging and text messaging. For family members and caregivers, HRS' software gives them the ability to be fully involved in their family member's care and well-being. To learn more about Health Recovery Solutions, visit http://www.healthrecoverysolutions.com or call (347) 699 – 6477.