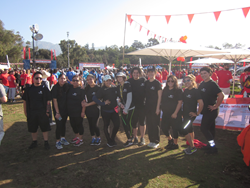 It was great to meet with coworkers from other offices, especially at an event that is raising awareness for such a good cause.
La Mirada, CA (PRWEB) October 02, 2017
On September 23, 2017, Healthpointe employees from both the corporate and medical offices walked together as "Team Healthpointe" in the Pasadena Heart Walk. Among the group were x-ray technician staff, corporate staff, medical assistants, and surgical coordinators.
The American Heart Association's Heart Walk, which kicked off with a health expo at 7:30 a.m., was created (according to heartwalk.org) as a way to raise funds and "save lives from this country's No. 1 and No. 5 killers – heart disease and stroke." In the weeks leading up to the event, participants received healthy living tips and ways to take precautions against heart disease, from the event organizers.
Healthpointe's Medical Director, Dr. Ismael Silva, said that he was "proud to see a group of Healthpointe employees give up their Saturday to walk for the American Heart Association. Healthpointe's goal is to provide care for all patients – including those affected by heart disease – and to see that Healthpointe's employees are so caring both during and after work hours is great. They are truly reflective of Healthpointe's mission."
Roxanne Velasquez, an employee based out of Healthpointe's corporate site who was one of the participants, agrees with Dr. Silva: "It was great to meet with coworkers from other offices, especially at an event that is raising awareness for such a good cause."
Healthpointe's participation in the Heart Walk comes just weeks after Healthpointe's company-wide involvement with a charity food drive for the Los Angeles Regional Food Bank. Healthpointe looks forward to more ways to give back to the community in the near future.
For more information about the American Heart Association, visit heart.org. For more information about Healthpointe, visit healthpointe.net or call 888-824-5580.
About Healthpointe:
Healthpointe is a leading multidisciplinary healthcare organization offering a full range of medical services in practice locations throughout Southern California (Los Angeles County, Orange County, San Bernardino County, and Riverside County). Healthpointe, which has locations situated in over 10 cities in Southern California, has provided services over the last four decades for private patients, injured workers, urgent care, personal injuries, and athletes. Leading the organization is a dynamic team of healthcare professionals who continually strive to be at the forefront of medical innovation and healthcare service delivery. For more information, a complete list of services, and Healthpointe locations, visit Healthpointe.net.