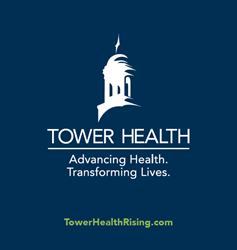 Tower Health is boldly advancing to serve the needs of over 2.5 million people across every stage of life, for every condition along the way. Lisa Hess, VP Marketing & Communications, Tower Health
MORRISTOWN, N.J. (PRWEB) December 05, 2017
Newly-formed TOWER HEALTH includes Reading Health System and its five newly acquired Community Health Systems (CHS) hospitals. The rebranding reflects the collective strength, innovative approach and bold commitment of the organization across its expanding system of care – which now serves 2.5 million individuals across Eastern Pennsylvania.
The five hospital acquisitions – Brandywine Hospital in Coatesville, Phoenixville Hospital in Phoenixville, Pottstown Memorial Medical Center in Pottstown, Jennersville Regional Hospital in West Grove and Chestnut Hill Hospital in Philadelphia – support Tower Health's strategic vision of remaining a strong, regional, integrated provider/payer system providing access to nationally-recognized care to more communities.
Beyond the hospital acquisitions, Tower Health's comprehensive network includes a connected network of award-winning physicians, convenient outpatient and ambulatory locations and a comprehensive Health Plan that provides even more choice and value.
Specialist brand consulting and marketing agency Trajectory, agency-of-record for Reading Health System (now Tower Health) has been working in partnership with system leadership to carefully plan and orchestrate brand strategy, messaging, brand design and the organization's integrated, multimedia marketing campaign – RISING BOLDLY. The campaign launched in a phased roll-out in 4th quarter 2017 and will continue in 2018.
New TV, which kicks off with a :60 anthem spot, can be seen here on the towerhealthrising.com microsite. Balance of launch components include print, radio, digital, lifestyle (cinema, mall, fitness center and lifestyle venues), mobile and social media.
About Trajectory:
Trajectory is a brand consulting and integrated marketing agency specializing in building momentum for brands to thrive across the health and wellness landscape: healthcare providers and payers, consumer wellness and beauty, pharma and device. For more information about Trajectory, visit http://www.trajectory4brands.com.
About Tower Health:
Tower Health brings together more than 11,000 dedicated team members and 2,000 nationally recognized physicians, specialists and providers across 75 convenient locations. The organization now serves a population of 2.5 million individuals across Eastern Pennsylvania. For more information, visit http://www.towerhealth.org