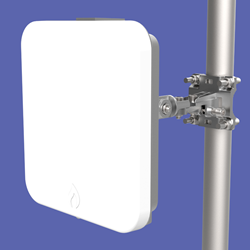 We are very excited to announce this revolutionary product to the market. Our customers have told us that they need tools to deliver low-cost gigabit connections everywhere. We heard them and this next step in the MetroLinq family of products delivers on that
(PRWEB) September 29, 2017
The new cloud-managed Multi-Gigabit Outdoor Base-Station is packed with the latest technologies from IgniteNet. It is the second generation of 60 GHz mmwave point-to-multipoint products delivering more than 2x the capacity and covering 4x the coverage area (120 degrees) compared to the previous generation base-station.
This new radio can achieve 2.5 Gbps capacity allowing the construction of multi-gigabit, future-proof hybrid fibre wireless networks quickly and cost-effectively. The new product is an ideal solution for delivering next generation gigabit connectivity wirelessly to metropolitan and suburban areas, building backhaul for existing or new mobile or fixed operator infrastructure, providing secure and high-capacity data transportation for video surveillance networks, and many more.
Using the latest phased array beamforming antenna design allows 120 degree area coverage with an improved performance when focusing the signal to a specific client when data is transmitted and received. The MetroLinq 2.5G 60 base-station features 16 beam steps of 10 degrees each -- significantly improving signal strengths and assures the security of deployed links in a PTMP scenario.
The MetroLinq 2.5G 60 base-station also includes a second 5GHz radio which acts as a backup on a client by client basis to provide integrated redundancy without any additional hardware or complexity! It also has multiple client device options to choose from depending on distance, performance, and other application specific requirements with coverage distances up to 900m.
The new base-station like all other IgniteNet products can be either individually or cloud managed and support all the essential features required for layer 2 bridging including jumbo packet pass-through, management VLAN, 128bit AES Encryption, dual firmware image support for recovery and more!
"We are very excited to announce this revolutionary product to the market. Our customers have told us that they need tools to deliver low-cost gigabit connections everywhere. We heard them and this next step in the MetroLinq family of products delivers on that." – says Harold Bledsoe, a President of IgniteNet.
About IgniteNet
Headquartered in Irvine, CA, IgniteNet is a wholly owned subsidiary of SMC Networks, Inc. IgniteNet has a proven track record of producing powerful, reliable, easy to deploy, and innovative cloud managed wireless solutions and the industry's lowest cost 60 GHz wireless technology through channel partners worldwide, focusing on Enterprises and Service Providers. For more information, please visit http://www.ignitenet.com.