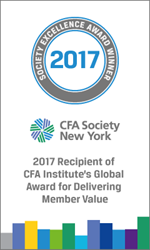 New York, NY (PRWEB) September 29, 2017
On Wednesday, October 4, join CFA Society New York (CFANY) for the Sustainable Investing Committee's fourth annual full-day conference: Climate Change is a Given – How to Drive Value and Manage Risk.
This event will explore the various ways climate change is impacting both public and private markets today, and what can be done to manage tomorrow's climate-driven risks.
A highlight will be the keynote speech of Rhode Island State Treasurer Seth Magaziner, during which he will address how his state has taken up the call to respond to climate change. From oversight of pensioner's investments, to infrastructure preparedness, renewable energy incentives and energy regulation, Treasurer Magaziner will discuss what steps Rhode Island is taking.
Panels throughout the day will examine different pieces of the landscape. One panel will explore techniques for integrating climate data into investment products. Karen Wong, CFA, of Melon Capital Management and Timothy Dunn, CFA, of Terra Alpha Investments, LLC, will both explain how certain integration approaches create value. They will also discuss how the data itself and the integration techniques may evolve in the future.
The "ESG as a Risk Factor" panel will delve into whether ESG should be treated as a factor and incorporated into larger strategies. Learn from the insights of Lisa Goldberg, PH.D., of CDAR, UC Berkeley and Aperio Group, and George Bonne, Ph.D., PRM, of MSCI, as they are led in a discussion by Jeffrey Bohn, Ph.D., of the Swiss Re Institute.
A panel on the incredibly complex demands of creating sustainable cities will walk through both the opportunities and challenges as seen from different perspectives. Adam Krop of CDP will moderate a panel that includes both the head of Morgan Stanley's Sustainable Finance practice, Zach Solomon, as well as Nathaly Agosto Filion, Chief Sustainability Officer for Newark, New Jersey.
The "Impact Investing" panel will explore innovative ways to manage risk and achieve impact and returns. Jason Scott of Encourage Capital will join Ecosystem Integrity Fund's Sasha Brown in a discussion moderated by Kate Starr, CFA, of Flat World Partners.
The final panel of the day will attempt to reconcile the perspectives of a rating agencies' credit ratings and the scientific view of value at risk. Rutgers' Robert Kopp will discuss the findings of his scientific work estimating value at risk in the U.S. and implications over different time horizons. Laline Carvalho of S&P will discuss efforts to evaluate the risks from climate change and move toward a reflection in credit ratings.
This full-day event will conclude with a reception for panelists and attendees to mingle and discuss the topics of the day. CFANY thanks MSCI, a Silver Sponsor of this event, for their support.
__________________
CFA Society New York is a leading voice within a network of CFA Societies in 150 countries, representing over 145,000 CFA Institute members worldwide. CFANY works in conjunction with CFA Institute to develop the industry's future professionals and collaborate with industry leaders to raise the standards of professionalism in the investment management industry.
For additional details, information and registration, visit the event page below:
https://www.cfany.org/event/climate-change-is-a-given-how-to-drive-value-and-manage-risk/
Contact:
Jared Steckler
CFA Society New York
jsteckler@cfany.org