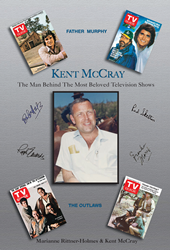 "Most of the books you read are about actors. A lot of them don't get into the nuts and bolts of what it takes to do the job and that's what I've tried to relay."
Los Angeles, CA (PRWEB) September 25, 2017
The autobiography "Kent McCray: The Man Behind The Most Beloved Television Shows" (Ingram Sparks Publishing)—a behind-the-scenes look at producing and production for television legends—written by Marianne Rittner-Holmes and Kent McCray was released on September 18, 2017, and featured its first book signing at TV's "High Chaparral" 50th Anniversary at the Marriott Hotel in Burbank, California on Thursday, September 14, 2017. As told to Rittner-Holmes over a period of three years, the book conveys McCrays's 50-year journey in television in his own words.
Kent McCray was an NBC producer and production manager for iconic shows: "Bonanza," "High Chaparral," "Little House on the Prairie" and "Highway to Heaven"—all four series are still being broadcast 30 – 55 years after their original debuts. McCray's historic five-decade career features experiences and anecdotes working amongst late legends Red Skelton, Milton Berle, Groucho Marx, Bob Hope and Michael Landon, amongst others.
McCray says, "Most of the books you read are about actors. A lot of them don't get into the nuts and bolts of what it takes to do the job and that's what I've tried to relay."
Michael Landon's daughter, Leslie Landon Matthews says, "There should be a saying: 'behind every successful man is Kent McCray.' Kent was not only my Dad's best friend and like a brother that he never had, but he also helped build the foundation to my Dad's success. Kent knew my father inside and out, and they always had a friendship that was built on love, mutual respect and admiration for each other. In this book, Kent gives you the behind-the-scenes look into his illustrious career working with the greats! Kent's storytelling and sense of humor is brilliant, and you will understand why he had such success as head of production for so many years in television entertainment. There are so many great stories from this man that I hope a second book is being written!"
Boyd Magers or Western Clippings says, "Kent McCray: The Man Behind The Most Beloved Television Shows is a book unlike any other ever written about TV…a fascinating insider's look at the sweat, tears and often ungodly hours it took to produce TV series like 'Outlaws,' 'Bonanza,' 'High Chaparral,' 'Little House on the Prairie,' 'Father Murphy' and 'Highway to Heaven.' Beginning in 1951, with the new medium of television, Kent's remarkable memory and storytelling skills relate the tales of production obstacles and solutions, fights with the network brass, and personal insights into working with Bob Hope, Dinah Shore, Red Skelton, Ralph Edwards, the "Ponderosa" gang, Don Collier…and especially his 'brother' Michael Landon whom he shared a very special bond…until Landon's untimely death."
McCray candidly shares his experiences, which led him to being head of production and producing his high caliber of television entertainment that is still being aired today to an ever-growing audience around the globe.
He also details his own personal love story with his wife, casting director Susan McCray, who discovered the likes of Giovanni Ribisi, Paul Walker, Rob Lowe, Jason Bateman, Shannen Doherty, Todd Bridges, and more. They met through their work and had a successful working relationship that led to more than 30 years of marriage.
The book will be available in hard cover on Amazon, Amazon UK, BarnesandNoble.com and select retailers around the United States for $29.95
Please visit http://www.kentmccray.com for more information.
About Kent McCray
Kent McCray was born on June 7, 1928, in Hartford, Connecticut. After attending the Hartt School of Music at Hartford College, he ran the Central City Opera House in Colorado before moving into live television and film production at NBC Studios in Los Angeles. In 1951, at the dawn of the coaxial cable explosion, he started working on live shows, including "This is Your Life" with Ralph Edwards, "The Red Skelton Show," "The Buick-Berle Show" with Milton Berle and "You Bet Your Life" with Groucho Marx. He started USO tours with Bob Hope in 1954, rubbing elbows with golden age stars like Ginger Rogers, Jayne Mansfield, Eddie Cantor, and columnist Hedda Hopper. Michael Landon called McCray, "the brother he never had." McCray had a successful 50-year career as a production manager and producer for iconic television shows that continue to air today, including "Bonanza," "High Chaparral," "Little House on the Prairie" and "Highway to Heaven." He has four children from his first marriage and currently resides in Westlake Village, California with his wife of over 30 years, casting director Susan McCray. His autobiography Kent McCray: The Man Behind The Most Beloved Television Shows (Ingram Sparks Publishing) was released on September 18, 2017.