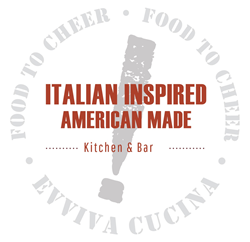 Evviva brings a unique spin to pizza as well as their La Montanara, or fried crust pizza, has garnered rave reviews and attention.
Beverly, Massachusetts (PRWEB) January 24, 2017
Founder and President Nick Harron is pleased to announce the January 24th opening of the much anticipated Evviva Cucina, an Italian Inspired American Made Kitchen & Bar. This will be their second location, the original location is located at 7 Cornerstone Sq. in Westford, MA. Known for it's locally sourced scratch kitchen, vibrant and open atmosphere, and warm hospitality, Evviva will be featured in Commodore Plaza at 45 Enon St. in Beverly, Massachusetts. Evviva Cucina will be a welcomed destination for the North Shore community, boasting a 150 seat dining room with 40 seats at our bar and lounge. An outdoor patio highlighted by a 8 foot fire table and gas-fire torches will also be available in the spring and summer months and can accommodate an additional 50 guests. Pictures are available here.
Committed to tying into the fabric of the community, Evviva is dedicated to sourcing the finest ingredients from local farmer's and artisans. Highlighted not only in their Artisans Corner section of their menu and around the interior of the space on their multiple featured "Local Boards", but also throughout their variety of Sharables, Salads, Sandwiches, Piada Tacos, Pastas and Entrees. Evviva brings a unique spin to pizza as well as their La Montanara, or fried crust pizza, has garnered rave reviews and attention.
A constant attention is paid to showcasing the finest hospitality and atmosphere for their guests. Offering a $9.95 Pranzo Lunch Card, $7 Montanara Madness Mondays in which $1 from each pizza sold goes to a local charity, a comprehensive Gluten Free Menu along with a multitude of vegetarian options. Our Evviva Team is dedicated to offering exceptional service and hospitality through comprehensive training, hands-on managerial and ownership structure, and a wealth of benefits and initiatives for our guests including our state of the art Loyalty App and Online Ordering.
The bar at Evviva is the central hub of the Beverly location centered around out display pizza kitchen and boasting 16 craft draft lines, 23 unique wines by the glass, and an extensive specialty cocktail list featuring local and artisanal spirits. Two large T.V.'s, granite bar-top, high-top lounge tables, and ten-person communal table made from reclaimed wood highlight the bar area.
Evviva Cucina will be open Tuesday, January 24th at 4:00 to the public followed by our regular lunch and dinner hours on Wednesday the 25th. Reservations are accepted through our website and over the phone. Download our loyalty app through the App Store or Google Play for special offers, news and loyalty discounts! Catering and Takeout will be accepted over the phone at (978) 998-4950 and all of our menus are available at http://www.evvivacucina.com. Follow us on Facebook, Twitter, and Instagram for updates and available news and specials!
To learn more, visit http://www.evvivacucina.com.