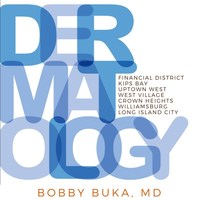 Kips Bay is our first Midtown office. We couldn't have chosen a more flourishing neighborhood. There's an expanding, underserved pocket of NYC here that reached out to us and we're here to answer that call.
(PRWEB) October 02, 2017
Dr. Bobby Buka and his team at Bobby Buka MD Dermatology are thrilled to announce the expansion of their dermatology practice to Kips Bay, Manhattan beginning the week of October 16. The new office is Buka's seventh location in New York and is located at 247 East 28th Street. It sits at the corner of 2nd Ave and 28th, offering 1,200 square feet of office space to local New Yorkers (and commuters) in the neighborhood.
Kips Bay is rich in both historical significance and present-day attraction. Bordered by Murray Hill on the north, Madison Square on the west, Gramercy Park on the South and the East River on the east, Kips Bay was an American Revolutionary War site in 1776 and features the last unpaved street in Manhattan, Broadway Alley.
Today, Kips Bay is a thriving NYC neighborhood home to many businesses and several high-rise apartment complexes. New York University's institutional buildings are prominent, including NYU's Tisch Hospital, NYU Hospital of Dentistry, and NYU School of Medicine, among other medical centers. The addition of Bobby Buka MD Dermatology only adds to the neighborhood's vibrant medical landscape.
According to John Brod, partner at ABS, the real estate firm that signed the lease, "Kips Bay was the next natural location for Dr. Buka, who attracts clientele from all over New York City." Brod continued, "The new office at 247 East 28th Street will draw patients from several Midtown East neighborhoods, like Murray Hill, in addition to clients from the Upper East Side and Queens, who previously had to travel to offices downtown."
Bobby Buka MD has offices in South Street Seaport, Greenwich Village, the Upper West Side, Crown Heights, and Williamsburg, and has recently opened its first Queens office in Long Island City. Every office has a unique atmosphere designed and decorated by Bobby Buka himself to reflect the local scene and make patients feel engaged and at ease. This attention to detail when it comes to the patient experience is one way Bobby Buka MD stands out from other providers in the city.
"Kips Bay is our first office in Midtown and we couldn't have chosen a more flourishing neighborhood," says Dr. Buka. "There's an expanding, underserved, residential pocket of NYC professionals here that reached out to our organization to open nearby and we're here to answer that call. It's important that we bring a fresh aesthetic to every community we join and we're poised to be the premier dermatology destination in the area."
Visitors to Bobby Buka MD's Kips Bay office will not be short on things to do: It's blocks from the Fairway Market, AMC Theater, Tipsy Scoops ice cream "barlour," and striking East River views. Nearby the 28th Street 4/6 and a short walk further to the R/ W and F/M at 23rd Street, the office is accessible for New Yorkers from all parts of town.
Voted "Most Sought-After Dermatologist" in NYC, Bobby Buka provides quality medical and cosmetic services including acne treatment, anti-aging services, cancer prevention, Botox and more. Dr. Buka and his team pride themselves in offering individualized, state-of-the-art care for every patient's dermatological needs.
A graduate of the Feinberg School of Medicine at Northwestern University in Chicago, Dr. Buka completed his residency at the University of California, San Diego and a fellowship in pediatric dermatology at Children's Hospital San Diego. He is a member of the American Academy of Dermatology, and published several books including Buka's Emergencies in Dermatology and Top 50 Dermatology Case Studies for Primary Care.
For more information or to book your consultation at the new Kips Bay office or existing locations, visit BobbyBukaMD.com or call at (212) 385-3700.