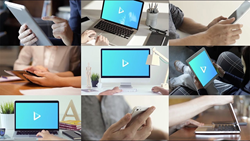 Yerevan, Armenia (PRWEB) October 03, 2017
Renderforest, one of the leading online video production platforms, has unveiled its newest video editor that will further simplify the process of video creation. New editor can be used to create various broadcast quality videos online, including promotional videos, explainer animations, corporate presentations and slideshows, intros and many more. It features built in tools and royalty free stock footages to create any promotional video in a short amount of time.
Renderforest is the favorite online video making platform for its 2 million users with 10000 videos created every day. Over 3 million videos have been created with Renderforest over the last 2 years.
https://www.youtube.com/watch?v=IqPLjetuFL0
"Many of our users wanted more opportunities for creating promotional videos using our platform" said Narek Safaryan, CEO of Renderforest. "Our team has worked for 10 months to meet this desire and created a better and simpler version of our current video editor. Our new editor will make the video creation process even easier and will work on multiple devices, even mobile."
"In addition to all advanced features, the new editor will also give the opportunity to add stock videos from Videoblocks. The integration of VideoBlocks footages will enable our users to import any stock videos to their own projects and create unique high quality videos, which is a great way for businesses to start their video marketing campaigns."
Renderforest's redesigned editor can be used for creating:
Low cost high quality explainer animations for startups
Various Intros for individuals, businesses and youtube channels
Animated or live footage Promotional videos
Corporate presentations
Wedding, Personal, Birthday and Corporate slideshows
Kinetic Typography
Real estate listing videos
Music visualizations
Social videos
Infographics
Educational Presentations
Special event promotional and invitation videos
And much more.
All the video templates can be found https://www.renderforest.com/templates
A Little About Renderforest:
Renderforest is video production platform for creating broadcast quality videos using online tools and cloud storage.
Users can create and export unlimited number of quality videos and share them through social networks or web.
For personal use, we offer a variety of custom solutions for blog animations, photo and wedding slideshows, educational videos and video invitations.
Renderforest also provides businesses with easy-to-use options for business presentations, events invitations, promotional videos, kinetic typography, explainer animations, testimonials and more.
Renderforest if free for use, but offer upgrades for better quality versions. Renderforest also enables API integration and Reseller licence.
For Media Information Please contact:
Roman Daneghyan, Chief Marketing Officer
Renderforest
(374) 94199690
roman(at)renderforest.com