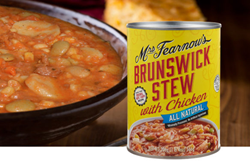 It is our honor to support our Veterans through the efforts of the VFW organization and for this event, our donations, are given in honor of George Fearnow, whose family launched the Mrs. Fearnow's® Brunswick Stew brand in this very community. -Ron Sonntag, CEO
(PRWEB) October 03, 2017
Boone Brands, makers of Mrs. Fearnow's® Brunswick Stew, announce plans for a fundraising event benefitting the VFW (Veteran's of Foreign Wars) Post 9808 organization on November 4, 2017. The event will be hosted at the VFW Post 9808 facility at 7168 Flag Lane, Mechanicsville, Virginia. The family-friendly fundraising event is open to the public from 10:00am until 5:00pm.
Boone Brands is donating several pallets of Mrs. Fearnow's® Brunswick Stew in honor of George Fearnow, a veteran in the community. Cups of stew will be available for sale, with all proceeds going directly to the VFW organization. "It is our honor to support our Veterans through the efforts of the VFW organization and for this event, our donations, are given in honor of George Fearnow, whose family launched the Mrs. Fearnow's® Brunswick Stew brand in this very community," said Ron Sonntag, CEO of Boone Brands. "We are grateful for the service of our Veterans and look forward to participating in every opportunity to give back," replied Sonntag.
A representative from Yuengling® Brewery will be on-site for beer tasting. Barbecue sandwiches, sausages, cole slaw and beer by-the-glass will also be for sale to raise funds. There will be craft vendors and a game area with over 15 electronic gaming stations for the kids, the Hanover County Sheriff's Department will sponsor McGruff the Crime Dog mascot and there will be fingerprinting identification activities for children. The local fire department will also be on-site, providing fire safety demonstrations and answering questions. The Hanover Concert Band will perform from 1:00-2:00pm and there will be music and a DJ continuing the fun before and after the live music performance.
Ed Mann, Commander of the VFW 9808 Post, explains the many services the VFW offers to veterans, "Through our fundraising efforts, we are able to help many Veteran families when they are in need. The funds are used to assist with household expenses as needed, and also sponsor two VFW scholarship funds. Lee-Davis High School, Atlee High School and Hanover High School participate in the "Voice of Democracy" an audio-essay program that provides a $30,000 scholarship to a high school student to attend the American university, college of vocational school of their choice. Middle school students (grade 6-8) may apply for the VFW sponsored $5,000 "Patriots Pen" Youth Scholarship."
The VFW Post 9808 holds an annual Car Show on the first Saturday in May, with over 700 attendees each year. In addition, Bingo is held two nights per week at the Post facility at 7168 Flag Lane, Mechanicsville, Virginia. "We are very excited to start a new, fun and family-centered event for our community, which will benefit the local Veterans and feel that teaming up with Mrs. Fearnow's Brunswick Stew brand team for our upcoming event will be the recipe for a very successful partnership," said Mann.
Visit http://myvfw.org/va/post9808/ for more information on the Mechanicsville VFW organization or https://www.vfw.org/VOD/ for more information on the VFW scholarships.
Within the past two months, Boone Brands has donated over $20,500 in products to non-profit organizations in North Carolina and Virginia. A pallet of Mrs. Fearnow's® Brunswick Stew was donated to the Kiwannis Club of Dinwiddie to sell at the Dinwiddie Fair, September 8-10, 2017. On September 7, 2017, Boone Brands donated over 3,696 cans of Patterson's® BBQ Pork and BBQ Beef to the Christian Food Bank in Salemburg, North Carolina. And in October, Boone Brands will donate two pallets, 2376 cans, of Mrs. Fearnow's® Brunswick Stew to the Lion's Club to sell at the North Carolina State Fair as a fundraiser for that organization. "Boone Brands is always seeking opportunities to help families and support those organizations that deliver assistance to our local communities," said Sonntag.
For more information on the VFW Post 9808 event on November 4, 2017, please visit: http://www.boonebrands.com/vfw9808
###
About Boone Brands: Boone Brands, located in Sanford, NC has been manufacturing quality food products for over 60 years and is one of the few remaining canned food processing plants in the Southeast. According to Boone Brands CEO Ron Sonntag, "North Carolina is an ideal central location for the production and distribution of our product lines, as they are currently distinctly Southern food products. Boone Brands is committed to safe and quality foods above all, and has recently invested to improve operations. We are also now certified as an SQF Level 2 Food Processor." The 30 full-time employees at the 30,000 square foot, SQF certified plant, manufacture specialty, small batch Southern-inspired canned food products distributed under many well-established brand names:

Mrs. Fearnow's® Brunswick Stew
Patterson's® Beef and Pork Barbecue
Patterson's® Beef Chili Sauce
Patterson's® Homestyle Gravy
Patterson's® Chipped Beef Gravy
Beverly® Sausage
Hilton's® Oyster Stew
Roses® Beef Tripe
Roses® Pork Brains
Boone Brands also provides private label Beef Chili, Chili No Beans, and Beef Stew to the grocery industry.
For More Information: Contact Ron Sonntag, CEO, Boone Brands, phone: (919) 775-5931 or email: rsonntag@boonebrands.com
Visit Boone Brands website at: http://www.boonebrands.com
Facebook: https://www.facebook.com/BooneBrands/