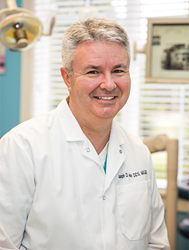 Youngstown, Ohio (PRWEB) September 29, 2017
Respected dentist, Dr. Joseph Bedich of The Center for Progressive Dentistry, offers leading-edge CEREC® dental crowns that are faster, more lifelike, and more convenient than traditional dental crown models. Patients in need of a dental crown in Youngstown, OH are encouraged to see Dr. Bedich who is now accepting new patients with or without a referral at his Cortland practice. Dr. Bedich applies advanced CEREC technology and peripheral equipment to produce exceptional quality dental crowns in as little as an hour.
CEREC treatment creates comfortable, safe, and precise dental crowns for patients of all ages. Unlike traditional crowns that can take up to three weeks to complete, CEREC technology rapidly produces permanent crown replacements that are tooth-colored, long lasting, and resilient to everyday wear.
At the heart of the CEREC process are digitization and 3D capabilities. Dr. Bedich ensures dental crowns are an ideal fit and made in the same-day while patients wait. After thoroughly cleaning the tooth area – and removing any old crown if necessary, Dr. Bedich carefully prepares the surface by brushing the tooth with a special powder. Using non-invasive tools, he can then generate a picture-perfect 3D model of the tooth surface, which is sent to the CEREC machine.
Once inputted into the CEREC system and software, the CEREC® milling machine creates a lifelike restoration made from strong, reliable ceramic through a unique process. The process happens quickly, and the final product – an attractive, appropriately sized and shaped crown – is ready to immediately bond with the tooth after Dr. Bedich inspects it to ensure a complete seal and fit.
This efficient start-to-finish CEREC timeframe allows patients to enjoy a streamlined process with uncompromised, superior outcomes, but without goopy molds or multiple visits. Whether patients need a crown replacement, first-time crown to cover tooth decay or damage, or crown after root canal, they can count on the CEREC process.
Patients who need to replace an existing dental crown or need an initial dental crown in Youngstown, OH, may contact leading dentist, Dr. Bedich for a consultation. His office team members can be reached at 330-615-1598 or through the website at http://www.adazzlingsmile.com.
About the Doctor
Dr. Joseph D. Bedich is a general dentist in Cortland, OH offering personalized dental care to patients. Dr. Bedich understands the importance of learning the most cutting-edge techniques, which is why he has taken over 2,500 hours of continuing education in a wide variety of services including sedation, implant dentistry, sleep apnea, cosmetic dentistry and head and neck pain management. To learn more about Dr. Bedich or the services he offers, visit his website at http://www.adazzlingsmile.com or call his office at 330-615-1598 to schedule an appointment.