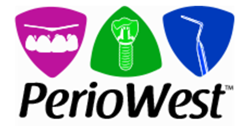 Eden Prairie, MN (PRWEB) September 29, 2017
Dr. Andres R. Sanchez, a well-known periodontist with PerioWest, recently completed a continuing education (CE) course on All-on-4® dental implants. This extensive, two-day course covered innovative techniques for offering full arch, immediate loaded dental implants and custom restorations. Patients with missing teeth interested in a reliable solution to their tooth loss can visit PerioWest to reclaim their oral health and smiles with dental implants in Eden Prairie, MN.
All-on-4, full-arch dental implant solutions can replace a full row of a patient's teeth and last for a lifetime with proper care. After strategically placing four or more dental implants in Eden Prairie, MN, Dr. Sanchez is able to attach a long-lasting, custom restoration that offers reliable function and a complete smile. This All-on-4 course expanded Dr. Sanchez's experience with this minimally invasive technique and covered unique cases any periodontist may come across, preparing them to care for a variety of patients. A live surgery during this course offered insight into tooth extractions, ridge augmentations (used in preparation for implant surgery) and the latest dental implant placement techniques.
The All-on-4 method offers a fixed, permanent tooth replacement option that can last for years, but does not require the expense or recovery of individual dental implants. They are also ideal for patients that may not have enough bone density for traditional implants. Patients can expect the following from Dr. Sanchez's full-arch treatment:

Full-arch restorations for the upper and lower jaw
Single restoration affixed with four or more implants
Accuracy in placement and lasting results
Restored oral function and a complete smile
As a Diplomate of the American Board of Periodontology, Dr. Sanchez is dedicated to offering modern, minimally invasive and reliable solutions to tooth loss. Patients who want to learn more about receiving dental implants in Eden Prairie, MN, are invited to contact PerioWest to schedule an appointment by calling 952-479-4705.
About the Doctor
PerioWest is a periodontal practice offering personalized dental care for patients in Eden Prairie, MN and the Twin Cities areas. Dr. Andres R. Sanchez received his Certificate & Master's Degree in Periodontics from the prestigious Mayo Clinic in Minnesota in 2004. He is a Board-Certified periodontist and a Diplomate of the American Board of Periodontology. In addition, Dr. Sanchez has been involved as a primary author in more than ten scientific papers published in major periodontal and implant dentistry journals. To learn more about Dr. Sanchez and the services he provides, please visit his website at http://www.periowestmn.com or call 952-479-4705.