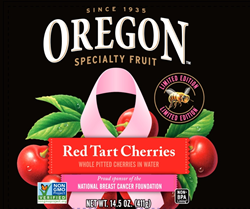 Salem, Ore. (PRWEB) October 02, 2017
In honor of Breast Cancer Awareness month, Oregon Fruit Products is donating $5,000 to National Breast Cancer Foundation to support its mission of early detection, education and support services for those affected by breast cancer. This is the company's third year supporting the foundation, donating over $15,000 in total. In a show of support for the initiative, Oregon Fruit's canned red tart cherries will display the symbolic pink ribbon on its labels for the month of October.
"Nearly every American has been affected by someone with breast cancer," says Oregon Fruit CEO Chris Sarles. "We are pleased to be continuing our relationship with National Breast Cancer Foundation, and hope that this contribution will help make an impact on as many people as possible affected by breast cancer."
When choosing Oregon Fruit red tart cherries, consumers can feel good about supporting breast cancer research while also making a healthy choice for themselves. The "Montmorency" cherry is known for its healthful anthocyanins: deep-colored pigments that are responsible for the cherry's crimson color. Montmorency cherries boast a multitude of anti-inflammatory benefits – from decreasing muscle soreness, to combating gout, to helping with insomnia. Additionally, all Oregon Fruit Products' cans do not contain a Bisphenol A (BPA) lining. The fruit is Non-GMO Project Verified, and made without high fructose corn syrup. Oregon Fruit Products red tart cherries are available at most grocers nationwide.
About National Breast Cancer Foundation, Inc.®
Recognized as one of the leading breast cancer organizations in the world, National Breast Cancer Foundation (NBCF) is Helping Women Now® by providing early detection, education and support services to those affected by breast cancer. A recipient of Charity Navigator's highest 4-star rating for twelve years, NBCF provides support through their National Mammography Program, Patient Navigation, Beyond The Shock®, breast health education, and research programs. For more information, please visit http://www.nbcf.org.
Oregon Fruit Products LLC
Founded in 1935, Oregon Fruit Products offers a complete line of canned, frozen and shelf-stable premium fruit for consumers, foodservice operators and ingredient sales. The company is located in Salem, Oregon and can be found on the web at http://www.oregonfruit.com.