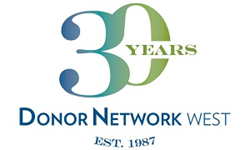 We are inspired by the generosity of the community over the past three decades and thank the donors and their families who make donation possible
San Ramon, CA (PRWEB) September 29, 2017
Donor Network West, the federally-designated organ procurement and tissue recovery organization for northern California and Nevada is celebrating three decades of healing lives. In the last 30 years the non-profit has developed novel business practices and expanded operations to better serve the community in its donation service area.
In 1987, an executive committee of hospital administrators of the major transplant centers in northern California came together to form an independent organ procurement organization (OPO) in response to the 1984 National Organ Transplant Act (NOTA). The piece of legislation was introduced to address the nation's critical organ donation shortage and improve the organ matching and placement process.
The resulting structure became known as California Transplant Donor Network (CTDN). The organization was established on September 24 of 1987 and recruited 15 employees that first year; the staff functions were a combination of hospital education and donor management.
In 2015, CTDN became Donor Network West, moved its headquarters from Oakland, California to San Ramon and relocated its Fresno office. Though the organization got a new name, its mission of saving and healing lives and its vision to be the premier community resource for organ and tissue donation in its service area of 40 counties, remained the same. Today Donor Network West has 300 employees and operates three regional offices: San Ramon and Fresno in California and Reno in Nevada.
In 2016, Donor Network West expanded its operations with the opening of a Clinical Center. Located steps away from the main office, the center has helped improve processes for the recovery of life-enhancing tissues. That same year, Donor Network West and San Ramon Regional Medical Center announced a partnership which has helped provide donor families a more certain time frame for the recovery of organs. The collaboration reduces the overall time between referral and recovery by allowing transplant teams to complete recoveries at the hospital's on-campus Ambulatory Surgery Center.
"We are inspired by the generosity of the community over the past three decades and thank the donors and their families who make donation possible," says Cindy Siljestrom, CEO of Donor Network West. "During this time we have seen many changes in our processes, have developed new partnerships and experienced significant growth, all with the goal of providing hope to the tens of thousands of people waiting for a second chance at life in our service area."
According to data from the Scientific Registry of Transplant Recipients (SRTR), Donor Network West has facilitated the recovery of 22,657 organs from 7,229 deceased donors in the last 30 years. In 2010, the organization completed the acquisition of three regional tissue bank recovery programs and has since recovered 30,211 tissue samples from 14,208 donors. Available Donor Network West tissue data dates back to 2009.
Donor Network West serves 175 hospitals and more than 13 million people within 100,000 square miles in northern California and Nevada. The organization works in close partnership with families, doctors, nurses, more than 500 funeral homes and 44 coroners and medical examiners to connect donors to recipients.
Of the 22,356 people waiting for a life-saving organ transplant in California and Nevada, 9,878 or 44% wait in Donor Network West's service area. One organ donor can save the lives of up to eight people and a tissue donor can heal more than 75 others. Anyone can register as a donor at DonorNetworkWest.org or at the DMV.
About Donor Network West
Donor Network West saves and heals lives by facilitating organ and tissue recovery for transplantation. The organization was established in 1987, and is an official Donate Life organization accredited by the Association of Organ Procurement Organizations (AOPO) and the American Association of Tissue Banks (AATB). Federally designated to serve 40 counties in northern California and Nevada, Donor Network West partners with the Department of Motor Vehicles and the state-authorized donor registries. For information, visit DonorNetworkWest.org and find us on social media: @mydnwest