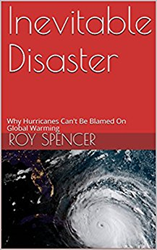 yet to be rivalled...the Great Hurricane of 1780 in the Caribbean, which had estimated winds of 200 mph and killed 20,000 people
Calgary, Alberta, Canada (PRWEB) September 30, 2017
Hurricanes Harvey and Irma have received overwhelming media coverage, most of which claimed the storms were caused by global warming and climate change, with Nicholas Kristof in the NYTimes tying hurricanes to climate change denial in an op-ed Sept. 02, 2017. Friends of Science Society says a new book- "Inevitable Disaster" by NASA award-winning scientist, Dr. Roy Spencer of University of Alabama in Huntsville, debunks the climate hysteria with facts and figures as reported in the Washington Times, Sept 21, 2017.
In a Sept. 29, 2017 post, blogger Ron Clutz of "Science Matters" calls it a "Media Duping Scandal" and deconstructs how the media "just add climate change" to every weather story, misinforming the public on every level. Headline hungry reporters use global warming as a means of driving subscriptions.
Likewise, well-meaning celebrities have done great work in fund-raising for victims, but the public is misled when they tie these weather events to global warming, just as Stevie Wonder did at the "Hand-in-Hand" hurricane benefit, as reported in the MSN News, Sept. 13, 2017. Friends of Science says blaming global warming or climate change for weather events ends up diverting public funds from necessary adaptions and resiliency programs.
Spencer's book and his blog post of Aug. 29, 2017 plot the scientific evidence, showing that hurricanes can occur if ocean temperatures are warm or cooler. Hurricanes originate over the ocean off the coast of Africa, and may strengthen as they cross the Atlantic, or dissipate. Spencer notes that there has been a near 12-year hiatus with no Category 3 or stronger hurricane making landfall in those areas at all – but no one in the media noticed.
Spencer writes in his blog post of Sept. 18, 2017 that: "For example, two major hurricane strikes endured by the Massachusetts Bay Colony, in 1635 and in 1675, have yet to be rivalled in more modern times" and that "Great Hurricane of 1780 in the Caribbean, which had estimated winds of 200 mph and killed 20,000 people."
Spencer explains that even the Intergovernmental Panel on Climate Change (IPCC), which reviews and reports on climate science for governments, has stated there is low confidence of any increase in hurricanes due to the human impacts on global warming.
Students of history know that extreme weather and cyclical warming/cooling climate periods are an integral challenge for human life on earth.
Human society rapidly progressed during the warm and stable Medieval Warm Period from 950-1250 AD, but collapsed into chaos, famine and despair during the following erratic climate of the 500 years of the Little Ice Age. At the outset of the 1300's, England and northern Europe (of today) experienced 5 years of non-stop rain, as reported by William Rosen in his book "The Third Horseman." Brian Fagan has written books combining climate science and human history on both periods - "The Great Warming" and "The Little Ice Age: How Climate Made History."
Friends of Science Society says trillions of dollars are being diverted to climate change initiatives, such as wind and solar farms, when that money would be better spent on adaptation, flood mitigation, and reserve funds set-up for post-hurricane restoration programs.
Friends of Science Society says natural factors like solar cycles and ocean fluctuations are the main drivers of climate change.
About
Friends of Science Society is an independent group of earth, atmospheric and solar scientists, engineers, and citizens, celebrating its 15th year of offering climate science insights. After a thorough review of a broad spectrum of literature on climate change, Friends of Science Society has concluded that the sun is the main driver of climate change, not carbon dioxide (CO2).
Friends of Science Society
P.O. Box 23167, Mission P.O.
Calgary, Alberta
Canada T2S 3B1
Toll-free Telephone: 1-888-789-9597
Web: friendsofscience.org
E-mail: contact(at)friendsofscience( dot)org
Web: climatechange101.ca