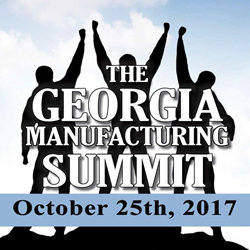 Atlanta, GA (PRWEB) September 29, 2017
3rd Annual Georgia Manufacturing Summit -- October 25 -- Cobb Galleria
20 top industry experts will address the "Manufacturing Trends to Track for 2018". Attendees will learn best business practices and can network with over 700 manufacturing professionals from across the Southeast. This 3rd Annual event brings together the People, Plants, and Products that create a vibrant economy in our state. Tickets include: Breakfast & Lunch Buffet, Keynote Presentations from Debra Shankle, VP Supply Chain for Coke North America and Rob Dugas, VP Supply Chain for Chick-fil-A, Educational Sessions, Exhibit Booths and a special post show viewing of the American Made Movie (focused on Manufacturing in the U.S.) and Q & A with producer Nathan McGill. For more details or to register: http://www.GeorgiaManufacturingSummit.com
Leggett & Platt Plant Tour– October 5 – Monroe
Open to the public/free to attend (Drop In 10am- 2pm)
Attendees will enjoy a plant tour, refreshments, and guest speakers to celebrate National Manufacturing Day. Leggett & Platt is a diversified manufacturer that conceives, designs and produces a broad variety of engineered components and products for customers worldwide. Chances are you have slept on a bed made with Leggett components - box springs, innersprings, fiber comfort layers; have relaxed in a recliner that has an L&P motion mechanism powering it; and have shopped in stores that have products displayed on shelving made by Leggett & Platt. Brian Kemp, Secretary of State, and Bruce Williams, State Representative, will welcome attendees and plant tours are throughout the day. School groups are welcome to attend and hot dogs and refreshments are provided.
TSI Solutions Plant Tour – October 6 – Stone Mountain
Open to the public/free to attend (Drop In 1pm - 5pm)
Celebrate National Manufacturing Day by touring TSI Solution's T-slot aluminum extrusion production facility and see an expo of products manufactured by Festo, the world's leading provider of factory automation components and systems. Since 1978, TSI Solutions has been helping Georgia manufacturers and machine builders optimize the performance of their equipment. TSI Solutions is a leading provider of factory automation components and systems in the Southeast. They are a provider of t-slot aluminum extrusion components and systems such as machine guards, machine stands, work stations, enclosures and material handling carts. They stock, cut, mill, tap and assemble T-slot extrusions for a wide variety of manufacturing companies. They will provide tours of their shop and provide hands-on and educational presentations on how T-slot aluminum extrusion is assembled, along with examples of how it is used in manufacturing facilities, schools, museums and hospitals. Refreshments will be provided.
Southwire Tour - November 1 – Carrollton (Morning Tour)
As an upgrade to one of Southwire's existing facilities in Carrollton, Ga, the state-of-the-art Thorn Customer Solutions Center showcases Southwire's product portfolio and allows for education and hands-on training for contractors, channel associates and industry training partners. Tactical experience is the most important aspect of fully understanding the value of the entire Southwire product offering, and this 18,000 square foot training center includes a classroom area with capacity for up to 80 participants and a demonstration jobsite environment with hands-on opportunities to sample Southwire's tools and equipment and their wire and cable products.
Honda Precision Parts - November 1 – Tallapoosa (Afternoon Tour)
Honda Precision Parts builds transmissions for Honda products including the Odyssey, Pilot, and Ridgeline. They started transmission production in 2006 with 179 associates and now have the capacity to build 375,000 transmissions per year with more than 600 employees. Starting with the production of a five-speed transmission, HPPG has expanded rapidly and invested in robotics innovation in 2012 to produce the six-speed transmissions currently made at the facility. Honda established operations in America in 1959 and now employs more than 40,000 associates in its North American sales, R&D and manufacturing operations with total capital investment in North America exceeding $22 billion.
Southern States Plant Tour - November 9 – Hampton (Morning Tour)
For over 100 years, Southern States LLC is a world leader in the design and manufacturing of high voltage switching. They offer a wide selection of products, services, and protection of electrical power transmission and distribution systems which is evidenced by more than 120 patents issued. Examples of some of these technological advances include the first substation class expulsion power fuses, the reverse loop contact finger for rotating blade disconnect switches, and the world's first and only 1 million plus volt switch.
Yamaha Motor Plant Tour - November 9 - Newnan (Afternoon Tour) GMA Members Only
Over 500,000 sq. ft. of manufacturing fun is under one roof at Yamaha Motor Manufacturing. This facility manufactures All Terrain Vehicles (ATV), Personal Watercraft (WaveRunners) and Golf Carts via an interesting combination of automated and manual processes using high speed fabrication and assembly operations. Staying true to their founder, Genichi Kawakami's slogan to "Make every challenge an opportunity," Yamaha has manufactured high quality outdoor adventure vehicles since 1954. Their employee driven Kaizen (continuous improvement) operation creates a culture where employees throughout the organization are actively engaged with improving productivity, eliminating waste, and improving standardized activities and processes.
Networking Events – Alpharetta, Gwinnett, NE and NW Georgia
These sessions help GMA service providers and manufacturers connect and expand their referral network. Only one professional per business category is allowed which makes them the "go to" person for their industry.
NE Coffee & Connections -- 1st Tuesday of each month (8:00 am – 9:00 am) in Gainesville
Alpharetta Networking Lunch -- 1st Tuesday of each month (11:30 am – 1 pm)
Gwinnett Coffee & Connections -- 1st Friday of each month (7:30 am – 9 am) in Suwanee
NW Networking Lunch -- 1st Friday of each month (11:30 am – 1 pm) in Atlanta (Cobb Galleria Area)
About the Georgia Manufacturing Alliance:
The Georgia Manufacturing Alliance (GMA) is a membership-based industry organization founded in 2008 to support Georgia's manufacturing community. GMA provides monthly plant tours, educational sessions, tradeshows, and unique networking opportunities designed to help make profitable business connections for our members. The Georgia Manufacturing Directory, Georgia Manufacturing Summit, and Georgia Manufacturing Calendar are additional resources produced by GMA. To learn more about our organization, membership and upcoming events, call 770-338-0051 or visit our website at http://www.GeorgiaManufacturingAlliance.com.