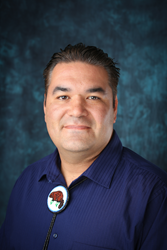 As a Native cancer survivor, I am personally grateful for the important work of Roswell Cancer Institute and Dr. Rodney Haring.
BUFFALO, N.Y. (PRWEB) October 02, 2017
Roswell Park Cancer Institute researcher and faculty member Rodney Haring, PhD, MSW, has been recognized with a 2017 Area/Regional Impact Award from the National Indian Health Board (NIHB).
The award, presented Sept. 27 in Bellevue, Washington, at the NIHB's annual awards gala, recognizes efforts to improve the health of the American Indian and Alaska Native community as well as contributions that go above and beyond the call of service.
An Assistant Professor of Oncology in the Department of Cancer Health Disparities Research who joined the Roswell Park faculty in 2014, Dr. Haring holds master's and doctoral degrees in social work. He received an Academy Health/Aetna Foundation Scholar in Residence Fellowship for 2015, is a former National Congress of American Indians scholar and currently is an adjunct faculty member at the Native American Research and Training Center at the University of Arizona. He also serves as an at-large delegate to the American Indian and Alaska Native Health Research Advisory Council (HRAC), a federal advisory panel that makes recommendations on ways to reduce health disparities among federally recognized American Indian and Alaska Native communities. A member of the Beaver Clan and an enrolled citizen of the Seneca Nation of Indians, Dr. Haring is one of very few Native Americans working in the field of cancer research.
He served as Co-Director of the just-ended Spirit of EAGLES: Changing Patterns of Cancer in Native Communities conference, a binational research meeting held for the first time in the Northeast region this month.
"As a Native cancer survivor, I am personally grateful for the important work of Roswell Cancer Institute and Dr. Rodney Haring. National Indian Health Board holds cancer treatment, early detection and prevention as a top priority for Indian Country and Roswell Park Cancer Institute is part of finding solutions," says NIHB Executive Director Stacy A. Bohlen.
"Rodney has brought so much to Roswell Park's research and to this community," says Institute President and CEO Candace S. Johnson, PhD. "He has created so many opportunities for people to come together, learn from one another and work together to overcome obstacles that get in the way of health and wellness. He's a real problem-solver."
###
This release is also available on the Roswell Park website: https://www.roswellpark.org/media/news/health-promotion-efforts-earn-native-american-researcher-dr-rodney-haring-national-award
The mission of Roswell Park Cancer Institute (RPCI) is to understand, prevent and cure cancer. Founded in 1898, RPCI is one of the first cancer centers in the country to be named a National Cancer Institute-designated comprehensive cancer center and remains the only facility with this designation in Upstate New York. The Institute is a member of the prestigious National Comprehensive Cancer Network, an alliance of the nation's leading cancer centers; maintains affiliate sites; and is a partner in national and international collaborative programs. For more information, visit http://www.roswellpark.org, call 1-877-ASK-RPCI (1-877-275-7724) or email askrpci(at)roswellpark(dot)org. Follow Roswell Park on Facebook and Twitter.