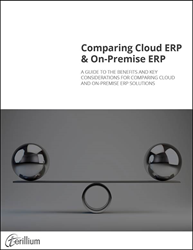 There are some differing opinions and strategies across industries when it comes to cloud technology ... And that's okay.
Cincinnati, OH (PRWEB) October 02, 2017
Terillium, an Oracle Platinum Partner and Enterprise Resource Planning (ERP) consulting company, published a new white paper today. The white paper covers key ERP definitions, explains characteristics of cloud and on-premise ERP options, and discusses the return on investment for ERP software solutions.
Chris Garrity, Director of ERP Project Delivery at Terillium, authored the white paper to help shed some light on the options available today for companies considering ERP software. Chris drew on his knowledge gained during numerous ERP implementation projects over the past 25 years.
"There are some differing opinions and strategies across industries when it comes to cloud technology – some executives can't make the move to the cloud fast enough, while others are unsure. And that's okay. Terillium is in the unique position to offer advice regarding cloud and non-cloud ERP options. Our new white paper addresses many questions we hear from CIOs and other business leaders – I hope readers find it helpful," said Garrity.
The white paper includes information on the total cost of ownership (TCO) of ERP software, functionality considerations, technology trends, ERP upgrades, security and uptime, hybrid cloud scenarios, and return on investment.
Cloud solutions, including Software as a Service (SaaS), Platform as a Service (Paas), and Infrastructure as a Service (Iaas), are a current topic in both business and the technology industry. The compound annual growth rate (CAGR) for enterprise cloud is forecasted as 19% through 2026, according to a study by Wikibon, a business technology research organization.
Despite being a relevant topic, the ERP industry's shift to the cloud has happened at a slower rate than other technologies according to the recent ERP Technology Value Matrix published by Nucleus Research.
To learn more, download the full white paper or visit terillium.com.
About Terillium, Inc.
Terillium  is an award-winning Oracle Platinum Partner specialized in Enterprise Resource Planning (ERP) Consulting. Terillium's team, made up of 150+ full-time employees, has an average of 16 years ERP experience. Terillium has helped over 500 businesses implement ERP.
About the Author
Chris Garrity is the Director of ERP Project Delivery at Terillium. Chris has 25 years of experience with ERP implementations. Prior to his career at Terillium, Chris was a senior manager at Deloitte Consulting. He also worked as a project manager at JD Edwards before the ERP software product was acquired by Oracle. Chris has a Bachelor of Science from UCLA, as well as a background accounting, finance, and computer programming. His professional certifications include APICS CFPIM and Project Management Institute PMP. Chris has spoken at several conferences including Oracle Open World, APICS World Conference, and numerous user group events.