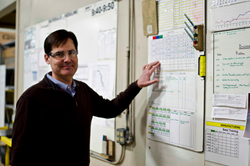 Lancaster speaks from 2:30 to 3:30 p.m. in Ballroom A, Level 3, at the Hynes Center, Boston.
Cambridge, MA (PRWEB) October 03, 2017
Jim Lancaster, CEO of lean management pioneer Lantech and author of the award-winning book the Work of Management, will share how the company beat the "silent enemy" of continuous improvement during his October 10, 2017, presentation at the annual AME lean management conference. according to publisher the Lean Enterprise Institute.
The live presentation, "Lantech's lean journey: a lean pioneer discovers the key to sustainable improvement" runs from 2:30 to 3:30 p.m. in Ballroom A, Level 3, at the Hynes Center, Boston. Complete details are at:
http://www.ame.org/ame-boston-2017/presentation/lantechs-lean-journey
That same day, Lancaster will participate in a panel discussion with five other business leaders on "Increasing employees' continuous improvement IQ" from 9:45 a.m. to noon, Room 304, Level 3.
Conference organizers expect 2,000+ manufacturing and continuous improvement professionals to attend the conference, billed as "the largest lean and continuous improvement conference in the world."
Lean Improvement Pioneer
Lantech was one of the first companies outside Toyota and its suppliers to truly embrace the principles of the Toyota Production System, the prototypical lean management system. For more than a decade, it enjoyed success after success as it converted operations from batch to flow production. Groups of managers visited to see how a company committed to continuous lean improvements operated.
But when the tours left, Lancaster faced two deepening questions:

Why did continuous improvement efforts deteriorate so quickly?
And, why, if we're so good at continuous improvement, aren't profits dramatically better?
In his presentation, Lancaster will give real-world answers to:

Why fluctuation in hundreds of variables lead inevitably to the "silent enemy" of continuous improvement.
How the Lantech team beat the "silent enemy" with a new system of daily management, based on overlapping daily and weekly cycles of standardized work activities that managers and executives at every level use to resolve frontline operational problems immediately.
Why 60 to 90 minutes of daily, standardized management activities at the frontlines are a CEO's most important minutes of the day and are the real work of management because of how they grow the business.
The practical and inspiring story of how Lantech quadrupled profitability by making improvements stick -- chronicled in detail by Lancaster in Work of Management -- was recognized with the prestigious 2017 Publication Award from the Shingo Institute, part of the Jon M. Huntsman School of Business at Utah State University.
About Lantech
Lantech is known as the leader in stretch wrap technology and innovation, as well as case handling equipment. It has sales and manufacturing headquarters in Louisville, KY, sales and manufacturing facilities in The Netherlands, and sales and service operations in Australia and China. Annual gross sales exceed $130 million. Lantech employs approximately 475 associates. Visit lantech.com for more information
About LEI
Lean Enterprise Institute Inc., is a 501(c)(3) nonprofit based in Cambridge, MA, with a mission to make things better through lean thinking and practice. Founded in 1997 by management expert James P. Womack, PhD, LEI conducts research, teaches educational workshops, publishes books and ebooks, runs conferences, and shares practical information about lean thinking and practice. Visit lean.org for more information.