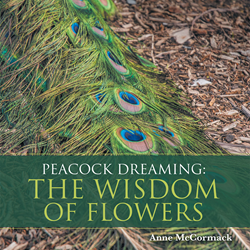 WELLINGTON, New Zealand (PRWEB) October 02, 2017
A New Zealand-based author has released a book which features several profound and realistic approaches to developing one's intuition. "Peacock Dreaming: The Wisdom of Flowers," by author Anne McCormack, is a self-help book aimed at readers through all walks of life, no matter the situation one is currently in.
Featuring vibrant photos of peacocks, flowers and plants from the South Island of New Zealand, 'Dreaming' encourages readers to meditate, take a break and shift one's mind into a more positive mindset. McCormack speaks on the influence of the peacocks and shares several pieces of wisdom regarding how to live a happier, more positive life. From Trust to Commitment and Connectedness to Patience, McCormack has shared inspirational writings for people through all walks of life.
McCormack hopes readers will find out they are not alone in what they think or feel, and that it's perfectly normal to feel any emotion in any given moment. "During a time of turmoil throughout the world, my mission is to reach as many people as I possibly can," the author said. "I want to remind people that taking a mental break from negativity and stress is key to working through any of life's issues."
Featuring lively photos of New Zealand, "Peacock Dreaming" reminds readers to take a step back and focus on the positive things in life.
"Peacock Dreaming: The Wisdom of Flowers"
By Anne McCormack
ISBN: 978-1-5043-0276-5 (softcover); 978-1-5043-0777-2 (electronic)
Available at the Balboa Press Online Bookstore, Amazon and Barnes & Noble
About the author
Anne McCormack is an author currently living in Nelson, New Zealand. She has studied the realms of metaphysics and aromatherapy for more than 20 years and is a passionate photographer for all things nature.
###
Review Copies & Interview Requests:
LAVIDGE – Phoenix
Chris Peña
480-306-7065
cpena(at)lavidge(dot)com
General Inquiries:
LAVIDGE – Phoenix
Kalin Thomas
480-648-7560
kbatts(at)lavidge(dot)com