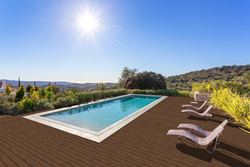 These boards combine beauty and performance, and enable our customers to make a brilliant design statement
Springdale, Ark. (PRWEB) October 02, 2017
Based on strong interest from its readers, Professional Builder magazine honors MoistureShield® composite decking from Advanced Environmental Recycling Technologies, Inc., (A.E.R.T.) as a "Top 100 Product" of 2017, in the outdoor living category. The Top 100 Products story in the magazine's August issue highlights new products in the MoistureShield line, including MoistureShield® Refine™ and MoistureShield® Infuse™.
MoistureShield Infuse is available with or without the innovative CoolDeck® technology, which reduces heat absorption by up to 35% compared to conventional capped composites in similar colors. The result is a more comfortable deck. Thanks to an exclusive Co-X™ manufacturing process, Infuse decking features a realistic wood-grain finish, enriched color variegation and an enhanced color palette of deep earth tones. As with all MoistureShield decking products, Infuse is backed by a transferable lifetime warranty, and comes with the further protection of a 25-year fade and stain warranty.
"MoistureShield Infuse continues a long tradition of innovation in A.E.R.T.'s composite products," said Joshua Landis, senior marketing manager for MoistureShield. "These boards combine beauty and performance, and enable our customers to make a brilliant design statement. We are very honored to have our decking recognized by such a highly respected publication as Professional Builder."
MoistureShield composite decking is the only composite tough enough to be installed on the ground, in the ground or underwater while still being protected by the industry's leading lifetime warranty. MoistureShield's expanded family of outdoor living products offers the right options to fit every backyard. Homeowners can choose from several high-performance composite decking and railing lines, as well as complete their deck design with MoistureShield Deck Lights, MoistureShield Deck Clips and Pro Aluminum Railing. Built to be tough, yet beautiful, all MoistureShield products inspire carefree living while making a statement.
For more information on MoistureShield products, visit moistureshield.com. Follow MoistureShield on popular social networks for deck design inspiration and outdoor living ideas.
About Advanced Environmental Recycling Technologies (A.E.R.T.)
Advanced Environmental Recycling Technologies, Inc., (A.E.R.T.) is part of the Architectural Products Group of Oldcastle, North America's largest manufacturer of building products and materials. A.E.R.T is a vertically integrated manufacturer of composite decking boards and related products, serving a range of retail and distribution customers across North America and several international markets. The development of new technologies and patents has enabled A.E.R.T to manufacture superior composite products from recycled wood fiber and recycled polyethylene plastic for the building and construction markets. AERT's products are sold under the ChoiceDek® (http://www.choicedek.com) and MoistureShield® (http://www.moistureshield.com) brands.