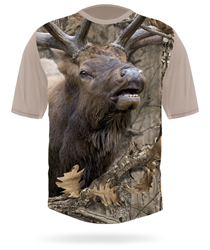 We aimed to make people stand out with their passion and bring them closer to nature by not just developing a t-shirt but a real masterpiece of art and quality. Today, we are pleased to see the joy in their eyes because we make them unique and exclusively, with their passion for nature in mind.
(PRWEB) November 08, 2017
Hillman, a brand dedicated to the production of innovative hunting clothing and accessories, is pleased to announce their new product, a clothing line designed to incorporate nature into everyday life while using the highest quality technologies.
Hillman's designs feature wildlife-focused photography and are created to bring consumers closer to nature in a fashionable and quality manner. Using stunning images from their selection of famous American photographers, along with advanced printing technologies, all products are entirely made in Europe, using only European materials, from the thread to the packaging.
The company's skilled and dedicated team offers over 20 years of experience in hunting clothing design to produce their top-quality images and comfortable items, printed with high pixel resolution through a slow printing process. Each image used is chosen among thousands and is selected based on resolution quality, focus, natural light, and fine detail in order to deliver the most natural and realistic results.
Hillman exclusively uses Epson® inks during the printing process, which are proven and certified as harmless to both humans and nature. To create the stunning 3D effect, Hillman uses Photocamouflage® that creates realistic nature backgrounds for camouflage t-shirts.
All t-shirts are created with a tremendous attention to detail and comfort. Superfine combed cotton with Lycra® is used for the sleeves and back, and fine polyester fibers are used for the front panel. Each shirt is constructed with an ergonomic curved bottom which offers functionality with a hi-tech appearance, and easy access to pants pockets. Shirts also include a reinforced neck, which provides additional durability and mobility and the front sided shoulder seams ensures comfort when using a backpack.
Hillman gear is available for purchase on their website at https://hillmangear.com/
About Hillman Gear LLC
Hillman is a brand dedicated solely to the production of hunting clothing and accessories with high added value. For ten years since its story started, Hillman has succeeded in creating strong markets in thirty-four countries worldwide. The passion for building innovative and valuable products was the key element for the success of their team. Now with their t-shirt line, Hillman presents their first products exclusively created for the US hunters and plan to present in 2018 its range of hunting gear and outfit without analog on the market.