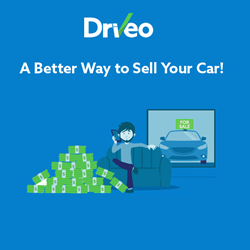 San Diego, CA (PRWEB) October 02, 2017
Automobile owners have a new way to sell a car in San Diego when the time comes. The El Cajon-based team that created Auto City a decade ago has now launched Driveo, a car-buying service that gives consumers an alternative to the usual choice between a dealer trade-in or selling the vehicle privately on their own, and it's one that promises to put more cash in people's pockets.
Many people have long been dissatisfied with what happens when they decide it's time to sell their car and get a new one. The amounts offered by dealerships for trade-ins are depressingly low, but the thought of going through all the stress and hassle of selling a vehicle privately with no guarantee of success is also unappealing. Although private sales typically fetch higher prices, few people factor in the time and effort it takes, not to mention running the risk of getting scammed – or worse – as sometimes happens when people advertise vehicles for sale online.
Driveo was launched by the same team who created Auto City in El Cajon a decade ago. Auto City was born out of a desire to create a used car shopping experience people would actually enjoy, rather than the stressful, anxiety-ridden process too many consumers have experienced over the years. Auto City examined every aspect of the car shopping process and eliminated all the pieces that make people uncomfortable, such as worrying about the quality of vehicles on the lot, haggling over a final price, financing concerns, and more. Consumers are left with a car shopping experience they can love with superior inventory, up-front fair pricing, financing for all, and a 3-day money-back guarantee if they have second thoughts. Now the team at Auto City has applied the same process to the other side of the equation – giving people a better way to sell a car in San Diego, and it's called Driveo. The concept aims to give people a faster, easier way to sell a car than a private sale, while at the same time offering more money than they would be likely to get on a trade-in at a traditional dealership.
How can Driveo offer more money to people who want to sell a car in San Diego? The answer begins by understanding how the process typically works at most places. A used car travels a long a journey after being traded in. This process is made up of many players, and each player wants to make money, which is why most dealerships present such low offers on trade-ins. The dealer needs to make money on the car, as does the wholesale dealer who buys the trade-in and takes it to the auction. The auctioneer has to collect fees, as does the transporter who brings the car to and from the auction. Finally, independent car dealers, such as Auto City, who buy the cars at auction will also need to make money when the car is sold to the next owner. It's a tangled web of transactions that all seem stacked against people who want to get a fair price for their car. But by sourcing its inventory directly from consumers, Driveo is able to bypass many of the middlemen who want a piece of the pie, which means it can offer owners more money for their vehicles. From the consumer perspective, here's a summary of how the Driveo service works:

Vehicle Information: Driveo has a short online form that walks people through a few basic questions about their car and what kind of shape it's in. They can include photos and the VIN number if desired, but those aren't required to get a quote.
Quote: Driveo staff will appraise the vehicle based on the information provided and email out an official Driveo quote, typically within minutes. While these quotes are generated quickly, they are not automated or instant. A real person does the market research needed to come up with fair and competitive a quote.
Appointment: A Driveo quote is valid for 30 days (whereas a CarMax quote is only good for 7 days), which gives people all the time they need to make an appointment to come to Driveo. At that time, vehicle information will be verified, needed adjustments will be made based on any discrepancies, and then a final offer will be presented. If accepted, Driveo prepares a check on the spot.
Free Ride: If a customer needs a ride, Driveo will go anywhere in San Diego County, free of charge.
Secure, Immediate Payment: No waiting period, no grace period, no third-parties handling the money – this is why Driveo calls it the cruise in and cash out process.

All Sales Final: Customers needn't worry about dealing with an unhappy buyer if something goes wrong with the car after the sale.
Driveo Takes Each Car As Is: At Driveo people don't have to worry about smog checks or taking care of needed service or repairs – Driveo handles all of that.
Zero Interaction with DMV: Selling a car privately can mean several trips to the DMV to make sure all the right paperwork happens. Driveo handles all of that paperwork, entirely eliminating any need to visit the DMV.
Car Not Paid off? This is something that make a private sale difficult if not impossible, but not at Driveo. Driveo will pay off the loan and give the customer the difference between the agreed upon price and the amount owed on the loan.
No Headaches or Hassles: When people sell their cars to Driveo, they don't have to deal with all inquiries in a private sale, meeting strangers, dealing with no-shows or trying to avoid scammers, and it's much safer as well.
Although Driveo is a new company and a new concept, it's backed by the same knowledgeable team that has been operating Auto City for more than a decade, which means customers will be in good hands when it's time to sell a car in San Diego.
ABOUT DRIVEO
Driveo is an El Cajon-based company serving the San Diego metropolitan area through a simple mission: Helping people get more out of their cars than the traditional dealer trade-in, while making it easier for them than selling their cars on their own. Unlike dealerships who use wholesale auctions as a primary component of their used car inventory, Driveo cuts out all the middlemen and sources vehicles directly from owners, allowing for a better appraisal process and the ability to pay higher prices to people who need to sell their cars. See a comparison of Driveo to trade-in at Driveo versus Dealer Trade-In and a comparison between Driveo and private sales at Driveo versus Selling on Your Own.
ABOUT AUTO CITY
Auto City is an El Cajon-based used car dealership serving the greater San Diego area that has transformed the way consumers shop for used cars. It offers a superior inventory of high-quality cars with vehicle history reports, presents them for sale with firm up-front pricing to eliminate the stress of haggling, makes financing available to everyone who qualifies, and even offers a 3-day money-back guarantee, no questions asked. At Auto City, there is no pressure from salespeople – it's the person shopping who takes the wheel and sets the pace.