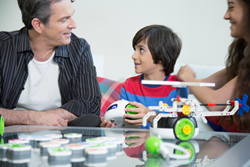 Robopal can inspire a child's interest while teaching coding, offering children a simple way to play around with complex coding languages.
LOS ANGELES, Calif. (PRWEB) October 02, 2017
Robopal, created for parents who want to help their young children learn programming concepts in a fun, interactive way, is now available on Kickstarter.
Robopal founder and creator Jinshuang Zhao says he came up with the product to help kids age four and older learn programming concepts offline through a more traditional, fun, educational, gaming hands-on STEM (science, technology, engineering and mathematics) experience.
Unlike some other coding toys on the market today that have limitations when it comes to complex coding languages, Robopal makes programming fun and easy in a creative way. It combines magnetic coding blocks to create commands for the robot and transform it into anything that children can imagine.
"Nowadays, the main coding tutorial is either taken online or through educational organizations where that teaching is dry, boring or both," Zhao said. "Robopal can inspire a child's interest while teaching coding, offering children a simple way to play around with complex coding languages."
Not only can Robopal introduce kids to programming in a gaming environment, it also offers early preparation for those who may find a future career in computer programming. According to a recent gradireland report, there is a strong demand for computer programmers who can write object-oriented code such as Java, C++ and C#.
"Tech skills are so in demand today that it's very hard to recruit and retain these people, especially those who know object-oriented code, and that probably won't change for the foreseeable future," Zhao said. "By introducing their children to Robopal, parents are not only helping their kids learn the concepts of computer programming at an early age, but they also may be better preparing them for lucrative programming careers as adults."
Robopal can be used by a variety of people and organizations, including:

Parents and grandparents, who want to interact with their children and grandchildren while both learn about coding by playing with their own Do-It-Yourself robot
Teachers, who can use Robopal as a tool to teach coding in a fun way
Kids, who can play and explore programming with Robopal by themselves
Adults interested in robotics who want to learn basic coding
Zhao notes that Robopal can even be programmed for special uses like guarding a home, where it can be programmed to simulate an alarm when its infrared sensor senses people, and even coded to interact with household pets.
"The bottom line is that no digital devices are needed to program Robopal, so young kids can easily play with this product and learn coding in a very fun and easy way where every one of them can become an inventor," he said.
For more information, or to order Robopal while it's offered at an early-bird discount during crowdfunding, visit the Robopal campaign page on Kickstarter.