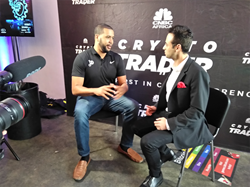 "This creates a very powerful incentive engine, a distributed computing platform where the bigger the bounty the more developers come into the play and the quality increases, which in turn drives up the speed and efficiency of the platform. At an exponential rate, this could become a very robust eco
St. Petersburg, FL (PRWEB) October 01, 2017
HireMatch, The first Decentralized Blockchain Employee Recruitment Platform, is in the midst of an Initial Coin Offering (ICO). The ICO, which started on 9:45am today, has reportedly raised over $343,000 in the first 2 hours.
The HireMatch token reduces the cost to acquire new employees by removing unnecessary friction and creating a more efficient marketplace by providing crowdsourced labor an incentive to find, verify and submit candidates to job listings.
"There has been tremendous and overwhelming interest in HireMatch's open API over the past month. Developers using our API can take a percentage of the bounty reward in proportion to the number of the candidates that their service finds, verifies or submits to job listings." HireMatch Chief Architect Armando Pantoja explained to CSNBC Africa at the World Bitcoin Conference in London.
Investors are said to have come from accross Europe, Asia and Canada. The funding raised during the ICO round will be utilized for product development and technology, legal fees, patents and new employees.
The HireMatch Token sale ends on October 31st.