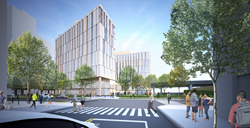 Cambridge, Massachusetts (PRWEB) October 02, 2017
Massachusetts Governor Charlie Baker and many Commonwealth and City of Cambridge leaders today joined EF Education First North America CEO Dr. Edward Hult to break ground on the company's third new building in Cambridge's North Point neighborhood, which will result in the creation of 300 new jobs, acres of new public parkland and recreational amenities, and a new permanent operations and maintenance facility for the MA Department of Conservation and Recreation (DCR).
"Today's groundbreaking is an important moment for EF that also highlights how public-private partnerships can lead to economic development, jobs, and the creation of beautiful public spaces that benefit our staff and students as well as the residents of Cambridge and Boston," said Dr. Edward Hult. "Although we considered expansion locations outside of Massachusetts, the support we received from many different groups at the state and local levels convinced us to continue growing here. We are proud to have played a small part in the rebirth of Cambridge's North Point neighborhood, and we are excited to continue contributing to Massachusetts' vibrant education, innovation, and technology communities."
In 2014, the Massachusetts State Legislature unanimously passed special legislation allowing EF to acquire a 125,000-square-foot parcel of land owned by DCR and MassDOT for $20.4 million USD, which previously housed a temporary maintenance facility for DCR. The proceeds from the land sale will fund the construction of a permanent maintenance facility for DCR on one portion of the parcel, which represents an important unmet Big Dig mitigation obligation.
"Massachusetts is a global and welcoming community with educational opportunities that attract students from around the world," said Governor Charlie Baker. "For over 30 years, EF Education First has been making a positive impact on the lives of those learning from the individuals they employ and teach, while drawing tens of thousands from abroad to see all the Commonwealth has to offer. We are excited to see their continued commitment to Massachusetts through this expansion and addition of public park and recreational space for their neighbors in Cambridge."
EF's new 300,000-square-foot, 12-story building will be designed to a LEED Gold standard and is scheduled to open in late spring 2019. The ground floor will be completely dedicated to public space with a mix of uses throughout the upper floors, including new student housing for the independent, nonprofit Hult International Business School – which is affiliated with EF through the company's founding family – general office and administrative space, and above-grade parking. The ground floor will include a public fitness center with a rock climbing wall, a small café, public restrooms, and hundreds of new public bike parking spaces.
"Continuing to seek opportunities that will benefit the Commonwealth's residents, the Baker-Polito Administration remains committed to fostering public-private partnerships with dedicated organizations, such as EF Education First," said Energy and Environmental Affairs Secretary Matthew Beaton. "Importantly, by working together, parkland improvements will be made, enabling the public to enjoy additional outdoor recreational opportunities now and well into the future."
The project will also include the addition of 60,000 square feet (2 acres) of new public green space and fitness amenities adjacent to the new building and DCR's beautiful North Point Park, which EF will build and maintain in perpetuity. The new parklands will feature an outdoor fitness course, a "flex field" for soccer games and other impromptu activities, a passive park on the west side of the site, a sports track, pedestrian pathways, and outdoor seating. EF will also develop new tennis and basketball courts and allow for free public parking to North Point Park on the weekends at EF's fourth building (the former Cambridge College building) on the corner of Monsignor O'Brien Highway and Museum Way. EF has also committed to contribute $500,000 to DCR over the coming five years to support the maintenance of North Point Park.
"We are proud to continue our partnership with EF in helping them realize their vision for North Point," said Skanska USA Building President & CEO, Richard Kennedy. "Public-private partnership is increasingly key to creating critical social infrastructure, and EF's growing campus is a prime and leading example."
EF's expansion is driven in part by rapid growth in the education and travel industries across the global economy. The company expects to add 300 new jobs associated with the project in the coming years, bringing its total headcount in Massachusetts to 1,500 by 2024. EF started in Massachusetts with three employees in a small office at One Memorial Drive in Cambridge in 1987.
To thank EF employees, the community, and the public sector officials who helped make the building project a reality, company leaders hosted a unique groundbreaking ceremony to celebrate the start of construction, featuring a big top circus tent and a performance by Montreal-based troupe 7 Fingers. The circus theme was inspired by the many years that the circus set up camp for its performances at the Boston Garden, very near where EF's building site is located. To pay homage to the new park and recreational uses coming to North Point, 7 Fingers conceptualized a bespoke performance featuring BMX bikers, skateboarders, and aerialists, all using props that reflect the tools DCR uses to maintain more than 450,000 acres of privately- and state-owned forests and parks.
EF Education First is a family-owned global education company. Through language, academic, cultural exchange and travel programs, EF hopes to play a small part in making the world a better place by uniting people across borders. With a mission of opening the world through education, EF was founded in 1965 in Lund, Sweden.