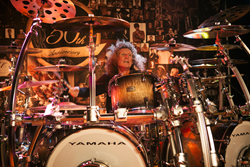 HOLLYWOOD, Calif. (PRWEB) October 02, 2017
Yamaha Drums assembled nearly two dozen world-renowned drummers on September 30 for some dazzling live music, a celebration of the company's innovation and success over the last 50 years, and an exploration of the company's plans for the future.
More than 400 people gathered at the Musicians Institute in Hollywood for the event, which began with an interactive exhibit of both current and legacy Yamaha drum sets and gear as they evolved over the decades, including the company's very first drum set released in 1967. Attendees, including students, dealers, professional drummers, hobbyists, media and others, had the opportunity to test-drive all of the gear on display as they mingled with professionals from the Yamaha Drum Artist roster. Drum designers were on hand offering technical and historical perspective on the company's evolution into the trailblazing drum manufacturer Yamaha is today.
The hands-on presentation was followed by exciting stage performances by the three Artist headliners of the day: Larnell Lewis (Snarky Puppy), Dave Weckl (solo artist and session legend) and Tommy Aldridge (Whitesnake, Ozzy Osbourne); all three Artists put on a spectacular show. The Yamaha team took time out from the festivities to honor two more Artists, Bill Gibson and Rick Marotta, with special appreciation awards.
The evening ended with remarks by Yamaha Drums marketing manager Steven Fisher, who said, "50 years of making high-quality hand-crafted drums is a major milestone in Yamaha's history, and it's a pleasure to be celebrating it with our customers, artists, and Yamaha colleagues. What we're really excited about, however,is the next 50 years. Yamaha has the resources, knowhow and innovative spirit to take drums and drumming to the next level for the next generation of drummers. You'll see the next sign of that spirit this fall with a brand-new product every drummer will want, so stay tuned."
Aldridge, a Yamaha Artist since 1980, said of his affiliation with the company, "I've been fortunate enough to have spent the majority of my professional career behind Yamaha drums; to say I depend on them would be a huge understatement. The sound and beauty of a Yamaha kit are unmistakable, and matched only by bullet-proof quality. Though I cherish each and every one of my Yamaha kits, I also subject them to some serious abuse; even so, day in and day out, city after city, they're still there. Thank you, Yamaha Drums,and Happy 50th Anniversary."
Visit http://4wrd.it/YAMAHADRUMS for more information on the Yamaha Drums division, and http://www.yamaha.com/artists/ for more information on the Yamaha Artist roster.
About Yamaha
Yamaha Corporation of America (YCA) is one of the largest subsidiaries of Yamaha Corporation, Japan and offers a full line of award-winning musical instruments, sound reinforcement, commercial installation and home entertainment products to the U.S. market. Products include: Yamaha acoustic, digital and hybrid pianos, portable keyboards, guitars, acoustic and electronic drums, band and orchestral instruments, marching percussion products, synthesizers, professional digital and analog audio equipment, Steinberg recording products and NEXO commercial audio products, as well as AV receivers, amplifiers, MusicCast wireless multiroom audio systems, Blu-ray/CD players, earphones, headphones, home-theater-in-a-box systems, sound bars and its exclusive line of Digital Sound Projectors. YCA markets innovative, finely crafted technology and entertainment products and musical instruments targeted to the hobbyist, education, worship, music, professional audio installation and consumer markets.