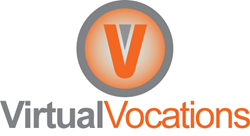 "Virtual Vocations is not only a family owned and operated business, but also a company driven to expand possibilities for working families. Telecommuting offers real solutions for professionals who need to work and who want to maximize time with their families." -Laura Spawn, Virtual Vocations' CEO
TUCSON, ARIZONA (PRWEB) October 02, 2017
National Work and Family Month (NWFM), which was established in a 2013 congressional resolution and has been recognized by educational institutions, private businesses, and federal agencies, will be celebrated by Virtual Vocations October 2–7, 2017. Their second annual NWFM celebration will continue to highlight the importance of work-life balance for U.S. professionals and promote telecommuting as a solution for greater career and life flexibility.
As part of their 2016 NWFM celebration, Virtual Vocations surveyed telecommuters and telecommute jobseekers on the ways their professional and personal lives intersect. Virtual Vocations found that 82.8% of survey respondents would accept lower wages in exchange for the option to telecommute at least some of the time and 89% of respondents are motivated to telecommute so as to achieve better balance between their lives at home and at work.
"The decision to celebrate National Work and Family Month for a second year was an easy one," said Laura Spawn, Virtual Vocations' CEO and Co-Founder. "Virtual Vocations is not only a family owned and operated business, but also a company driven to expand the possibilities for working families. Telecommuting offers real solutions for professionals who need to work and who want to maximize time with their families."
Throughout the first week of October, join the Virtual Vocations NWFM celebration by exploring their database of human-screened, telecommute-only job postings in more than 40 categories, visiting the Virtual Vocations blog for content geared toward working families, and interacting with Virtual Vocations' team on Facebook, Twitter, and LinkedIn using the hashtag #VVWorkAndFamily.
During October 2–7, Virtual Vocations blog readers can find NWFM content posted daily. Topics will include details on a new, free telecommuting e-course offered by Virtual Vocations, entry level job ideas for parents interested in working from home, telecommuting solutions for caregivers who also need to work, the pros and cons of being a work-at-home parent, a fresh list of free job leads from telecommute-friendly companies, and the best Virtual Vocations site features for members and subscribers.
After the success of their 2016 NWFM survey, which was completed by more than 1,000 respondents, Virtual Vocations will offer a new, 12-question survey on the work and lifestyle habits of remote jobseekers and current telecommuters. Completing the 2017 NWFM survey during October 2–7 will automatically register participants in a contest to win one of five prize packages, each to include the following: a $50 Amazon gift card, a free resumé review ($40 value), and a free quarterly Virtual Vocations subscription ($40 value). Winners will be notified on October 9, 2017.
To learn more about the Virtual Vocations NWFM celebration, contact the company on Facebook or Twitter and register for a free Virtual Vocations account using your name and email address. If you want to take full advantage of Virtual Vocations' site features, consider becoming a subscriber. During the first week of October, Virtual Vocations will offer a 20% discount on all new subscriptions.
About Virtual Vocations:
Virtual Vocations, Inc. is the largest and most comprehensive online database of telecommute-only jobs. Offering more than 40 diverse career categories and customizable search filters, Virtual Vocations is committed to helping job seekers gain an advantage in the competitive telecommute job market by finding quality job leads faster and easier. Virtual Vocations has assisted over half a million people in their search for flexible, telecommute jobs and is dedicated to bringing subscribers scam-free job leads that offer some form of telecommuting or virtual work. Virtual Vocations is a private, family-owned and operated company based in Tucson, Arizona.