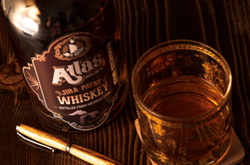 From a personal stand point, the Atlas Mill was the seconds oldest business in Michigan, and oldest business that was in the original building – since 1836. We couldn't sit by and let the Mill fade away.
Clinton, MI (PRWEB) October 02, 2017
Atlas Distilling Company, a small batch distillery and restaurant launching soon on the site of the historic Atlas Mill in Clinton, Michigan, is live on global crowdfunding platform Indiegogo and raising funds to bring the project to life.
Located in the heart of Clinton sits a 188-year-old mill which was once a staple and lifeblood of the charming village and the second oldest business in Michigan. The mill was destroyed by arson in the late 2000s and now a few hometown entrepreneurs are hoping to breathe new life into the history-rich site by turning into a new world class craft distillery.
"We always dreamed of coming back to our hometown. Years ago, we started daydreaming about a distillery, right in Clinton. We envisioned something historic, something local, and most of all, something with a story. When we came across the land that was once the Atlas Milling Company, we were immediately drawn in. We didn't know that it was a Michigan landmark. We researched for weeks, talked to former owners, and read every bit of information on the former mill that we could find. After discovering the history of the property, we were committed. We knew that the home of the former Atlas Milling Company could become home to the future Atlas Distilling Company," says co-founder Ethan Gibson. "Clinton is a small village, and it's tough to start a business there. We truly think that we can give Clinton a unique place that they can be proud of. The mill shouldn't be going to waste sitting around. We want to bring it back to its former glory and reinvigorate our little town."
All spirits from Atlas Distilling Co. will be corn based, and all locally grown; from smooth, crisp corn vodka, Michigan juniper berry gin, and small-batch corn whiskeys aged and matured in a 188-year-old grain elevator. All of this to keep the spirit of the grain mill and southeast Michigan alive in all their products.
With 13 years of experience in brewing, winemaking, and distilling, co-founder Yuri Simon will help bring the craft spirits to life. With a patented, one-of-a-kind work of art created by Henry of Gatling Still Works, the flavors and profiles from the Alexandria still will be as unique as the still itself. In addition to spirits, Atlas Distilling also has plans to introduce a tasting room where patrons can enjoy and dine on simple, delicious and fresh foods all inspired by Michigan cuisine stables. Diners can enjoy great eats while watching stand-up comedy, listening to bands, and playing trivia with their neighbors.
"From a personal stand point, the Atlas Mill was the seconds oldest business in Michigan, and oldest business that was in the original building – since 1836. We couldn't sit by and let the Mill fade away," adds co-founder Ryan Penterics. "A good percentage of the town has stories about relatives to worked there 'back in the day'. It comes down to bringing back 'small town America' and giving the little towns a chance to thrive and create jobs."
To truly capture the history and story behind the Atlas Mill and the Atlas Distilling Company, the team produced a video about their story. The "Atlas Distilling Story" video quickly ran up 30,000 hits and over 20,000 views and has been shared hundreds of times on Facebook.
Video: https://www.youtube.com/watch?v=jcSlaXfOlLY
The Atlas Distilling Company is currently live and available to support on Indiegogo: http://bit.ly/2xQdyqq
About Atlas Distilling
Atlas Distilling will be a true farm-to-table craft distillery based out of Clinton, Michigan. Atlas Distilling is housed on the historic grounds of the 188-year old Atlas Milling Company, Michigan's second oldest business at the time of its closing. Atlas spirits will be distilled from corn, all grown locally. The team is made up a Distiller with 13 years in the beverage world, an engineer who worked at one of the country's largest distilleries, and an avid home-brewer. Atlas wants to restore History, make spirits, and give back to the community that gave us everything.
For more information on Atlas Distilling please visit http://www.atlasdistillingco.com
###