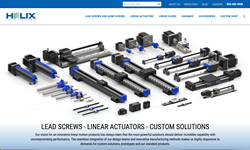 "Our new website is designed first and foremost with our customers in mind," said Christopher M. Nook, CEO of Helix Linear Technologies. "We provide a content-rich user experience that focuses on functionality. We want our customers to find what they need, and have an easy time doing it."
Beachwood, O.H. (PRWEB) October 04, 2017
Helix Linear Technologies, a global leader in lead screw and linear actuator manufacturing, debuts a new website featuring customization tools and several new products.
The new mobile-friendly website showcases a state-of-the-art lead screw custom shop with the largest collection of options available to build a lead screw – including the ability to adjust screw material, accuracy, coating, and end fixity. Another feature of the website is the product selector tool, developed with filtering and functionality in mind.
"Our new website is designed first and foremost with our customers in mind," said Christopher M. Nook, CEO of Helix Linear Technologies. "We provide a content-rich user experience that focuses on functionality. We want our customers to find what they need, and have an easy time doing it."
The website also features new products: a profile rail actuator line, a telescoping linear actuator, and an electric cylinder linear actuators with smart motor technology.
Visit the new Helix Linear website today at http://www.HelixLinear.com.
About Helix Linear Technologies
Helix Linear Technologies is a market leader in design, engineering, and manufacturing of precision linear motion and power transmission systems and components. Helix stands by its mission to be an innovative and responsive organization that manufactures linear motion products that meet or exceed their customers' specifications and expectations. More information on the company's extensive product lines, services provided, and industry leading innovation can be found here: helixlinear.com