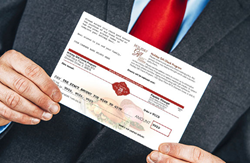 Every decision made at Holiday Gift Check is made with the customer in mind and adding HoneyBaked Ham to our redemption partners illustrates that.
Chicago, IL (PRWEB) October 02, 2017
The Holiday Gift Check Program, a 29-year- old, Downers Grove, IL-based provider of gift checks for employers to present as a gift or incentive to their employees, customers or patrons, is excited to announce that they have added HoneyBaked Ham to their list of redemption partners. This holiday season, Holiday Gift Checks will be accepted at more than 400 HoneyBaked Ham stores across the country in addition to the Holiday Gift Check Program's existing network of participating supermarkets.
The Holiday Gift Checks are a unique way for companies and human resource departments to show appreciation and contribute to their employees' seasonal celebrations. The checks can be redeemed at thousands of participating grocery stores nationwide in addition to any HoneyBaked Ham outlets.
Byron Duncan, Director of Sales at HoneyBaked Ham, sees partnership with Holiday Gift Check as a way to take part in a nostalgic holiday tradition, while increasing exposure to HoneyBaked Ham. "HoneyBaked Ham has always been a staple at meaningful family meals so it made perfect sense to partner with a company equally dedicated to helping people celebrate good food, friends and family," he said.
Holiday Gift Checks are affordable for a nominal service charge of only ninety cents to one dollar depending on the customization of the check. Checks can be ordered in any denomination up to $50 and customized with the gifting company's name and the name of the recipient by uploading an Excel or Microsoft document with the online ordering form.
"Every decision made at Holiday Gift Check is made with the customer in mind and adding HoneyBaked Ham to our redemption partners illustrates that," said Richard D. Wirth, president and chief executive of Holiday Gift Check. "HoneyBaked Ham is already a popular choice for holiday dinners and a perfect addition to the program that is already being wildly appreciated by both the giver and the recipient of the gift checks."
Holiday Gift Checks offer free shipping nationwide and expedited overnight delivery. Customers can return any extra, undistributed gift checks for full face value from Holiday Gift Check Program's customer service, based in their Midwest corporate office.
Wirth said the program has kept its 29-year-old popularity because it makes corporate gift-gifting easy, affordable, and flexible. Unlike gift cards, which are only redeemable at one store, Holiday Gift Checks can be used at thousands of grocery store locations nationwide, for a substantially smaller service fee than required by gift cards from major credit card companies.
For more information, or to order Holiday Gift Checks, visit http://www.giftcheckprogram.com.
About Holiday Gift Check Program
The Holiday Gift Check Program (HGCP) was launched in 1988 to help companies provide a traditional frozen turkey to their employees during the holidays in the easiest way possible. Since its inception, HGCP has distributed more than six million gift checks to more than 300,000 companies, both large and small throughout the United States, for redemption at grocers across the nation, and most recently HoneyBaked Ham stores as well. Canadian checks are also
available. Holiday Gift Check Program is located near Chicago in Downers Grove, IL and can be found at http://www.giftcheckprogram.com or by calling 630.986.5081.