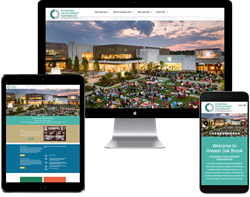 (PRWEB) October 04, 2017
Xeno Media - a leading web agency headquartered in Oakbrook Terrace, Illinois - announces the launch of a new, WordPress-based website for the Greater Oakbrook Chamber of Commerce's Economic Development Partnership.
The​ ​Economic​ ​Development​ ​Partnership​ ​is​ ​the​ ​Chamber's​ ​main​ ​strategic​ ​outreach​ ​tool for​ ​recruiting​ ​and retaining business​ ​and​ ​talent​ ​to​ ​the​ ​area.
"We​ ​have​ ​a​ ​dynamic​ ​and​ ​forward-looking​ ​business​ ​community​ ​that​ ​benefits​ ​from​ ​our superb​ ​​location​ ​and​ ​access, area amenities,​ ​and​ ​​business-friendly​ ​climate,"​ ​said​ ​Valentina Tomov,​ ​President​ ​and​ ​CEO​ ​of​ ​the​ ​Greater​ ​Oak​ ​Brook​ ​Chamber​ ​of​ ​Commerce.​ ​"Our​ ​new website​ ​reflects​ ​that​ ​dynamic​ ​and​ ​forward-looking​ ​nature--in​ ​both​ ​design​ ​and​ ​content and highlights Greater Oak Brook's many advantages."
Xeno Media developed the new http://www.greateroakbrookpartnership.com site using WordPress as a platform. WordPress is the most popular open source content management system today.
"WordPress was a great fit for this project," said Xeno Media Principal Kevin Munday. "It provides a high-value platform that is easy to use right out of the box." Chamber staff were trained as part of the build out and are ready to manage the site content, on their own, from the launch.
Xeno Media is dedicated to open source web technologies and is very active in the WordPress and Drupal communities.
The new greateroakbrookpartnership.com also features responsive design—which enables the website to function and look ideal on all common platforms and devices.
"Responsive design is a current best practice for the web. With simple code updates it allows the user experience to continue evolving as technology, browsers and devices change." said Xeno Media Principal Mike Acklin. "Mobile devices are increasingly important to our clients. That represents a sea change in how the world interacts with websites."
"Chamber staff had a strong vision of what they wanted for their website," said Xeno Media Senior Account Manager Diane Minton. "We worked hard together to bring this new vision to life and had fun along the way."
"The new greateroakbrookpartnership.com site looks fantastic and works great," according to Tomov. "It will make a real strategic difference for the Partnership, the Chamber, and the area business community."
Visit:
https://www.greateroakbrookpartnership.com
Learn more about Xeno Media:
https://www.xenomedia.com
Learn more about the Greater Oak Brook Chamber of Commerce at:
https://www.obchamber.com
About Xeno Media:
Established in 1997, Xeno Media is a full-service web agency dedicated to our clients' success and our team's professional and personal growth. Xeno Media uses open-source technologies like WordPress and Drupal to provide high-value projects with real strategic results for our clients in business, education, science and government.
https://www.xenomedia.com