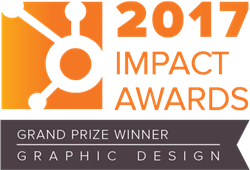 Bonafide has set an example for how businesses everywhere should be transforming their marketing with inbound.
Houston, Texas (PRWEB) October 04, 2017
On September 25, 2017, Houston-based inbound marketing agency Bonafide was honored with Hubspot's prestigious Grand Prize Impact Award for Graphic Design.
The quarterly Impact Awards were created by Hubspot to recognize the industry's leading examples of inbound marketing across several categories, including Sales Enablement, Website Design and Graphic Design. Each year, a Grand Prize winner is chosen from each category's Impact Award winners and announced at Hubspot's INBOUND conference. Of the more than 3,000 agency partners and 100 entries submitted in 2017, Bonafide was the only U.S. agency to receive this year's Grand Prize Award for Graphic Design.
The award recognizes Bonafide's work for CourthouseDirect.com, an innovative online database of national courthouse documents. While the company had successfully established itself as a vital partner with abstractors, appraisers, real estate agents and title agents, it saw a potentially lucrative opportunity in the untouched oil and gas landman vertical – but prospect education was key.
With this in mind, Bonafide developed a detailed infographic entitled "The Evolution of the Landman." The stylized piece guides readers through historical advances in oil and gas technology, while positioning CourthouseDirect.com's SaaS offering as a viable solution to their business pain points. The infographic was released alongside with a 35-page eBook, "The Landman Survival Guide," and was promoted through email campaigns, landing pages and social media.
To date, Bonafide's infographic has generated several thousand views, while the eBook and corresponding landing page been responsible for more than 65,000 unique visits to CourthouseDirect.com's website, resulting in over 1200 leads and 25 new customers.
According to David McNeil, Vice President of the Global Partner Program and Strategy at HubSpot, Inc., Bonafide's work on the CourthouseDirect.com campaign represents the industry's best practices for effective inbound marketing: "Bonafide has set an example for how businesses everywhere should be transforming their marketing with inbound. Their strategic approach to attracting, engaging and delighting customers has not only built valuable relationships with their audience, but has driven growth for their agency and the inbound movement. Our team here at HubSpot is proud to call Bonafide a Partner and recognize them with this award."
Bonafide President Shareef Defrawi says the award simply reflects his company's commitment to an inbound framework: "There's no denying that the market is more competitive than ever. It takes smart, strategic inbound marketing to help clients like CourthouseDirect.com reach new customers and prospects and stand out from the competition through compelling design and innovative engagement strategies. This award is a testament to the importance of inbound marketing, and we thank the team at HubSpot for their support and recognition."
About Bonafide
Bonafide is a digital marketing agency and HubSpot Gold Agency Partner committed to helping growth-minded businesses find new customers online using inbound and content marketing, SEO, PPC advertising, social media, PR, technology and more.