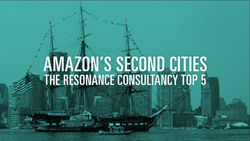 "What we can take away from this whole exercise is the growing importance quality of place plays in luring new companies, large or small, to cities today. Many of the factors identified by Amazon in its RFP are the very factors we measure in our America's Best Cities report." Chris Fair
New York, New York (PRWEB) October 04, 2017
This month, cities around North America will have an additional, curious line item on their monthly budgets. In addition to payroll and EMS, there will be hundreds of hours per city allocated to attracting Amazon's second headquarters outside of Seattle.
Some parts of North America, like the entire province of Alberta, are pulling in talent outside of city limits, building quick-strike supergroups with names like "The Amazon HQ2 Team," led by lauded business leaders. In Alberta's case it's retired investment banker Bill Sembo, who was integral in the creation of Canada's energy monoliths.
Of course the prize eclipses the scrambling of high-powered teams and finding un-budgeted cash. To the victor go $5 billion in Amazon investment and 50,000 new jobs over the next two decades.
HEARTBREAK BY DATA
As leading advisors in real estate, tourism, and economic development for three decades—a great many of Resonance Consultancy's clients being cities—they are excited to see this acute hunger by regional leaders to shape the future of their city.
This is also an opportunity for Resonance to use their exclusive city data—the same data provided to destinations that work with them to develop strategy, place branding and place marketing—to prognosticate on what city is most likely to win this massive prize.
To do so, they dove into the eight-page RFP that Amazon provided to cities earlier this month and surfaced a Top 5—the cities where the company that wants to own the Internet (and commerce in general) is most likely to set up shop.
THE WEST ISN'T THE BEST
First off, despite West Coast capitals hoping to finally sate their Seattle envy, Resonance regrets to inform them that Amazon is unlikely to choose another city on the West Coast and would likely gravitate to cities in the Central or Eastern time zone. The reason? Proximity to their major U.S. distribution centers.
TALENT TAKES FLIGHT
With a goal of hiring 50,000 employees, Amazon is also unlikely to choose a city that has less advanced industry service workers than Seattle currently (160,000). Also part of the ask is a seamless air connection between HQ1 and HQ2. Amazon's RFP explicitly states that the company will only consider cities with daily direct flights to Seattle, New York, the Bay Area, and Washington, D.C. Based on that criteria, there are only five cities in the U.S. Central and Eastern time zones that have 160,000 or more advanced industry service employees and daily direct flights to these key cities…
1. New York
2. Chicago
3. Dallas
4. Boston
5. Washington
RESONANCE'S BEST CITIES DATA WENT DEEPER
Once Resonance had their shortlist of five cities, there was more work to be done. They revisited the RFP and identified specific Amazon criteria that they could measure based on the research they collected for their America's Best Cities report over the summer, their ranking of U.S. cities that quantified and benchmarked the relative quality of place, reputation and competitive identity by analyzing 27 factors in six categories using a combination of core statistics and online ratings and reviews.
Based on the specifications listed in the RFP, Resonance identified data from their research for each of the following criteria Amazon says is important to it in selecting a city for its second headquarters:

Educational attainment (The percentage of city's population with a post-secondary education)
Diversity (Percentage of population foreign born and percentage that speak a language other than English at home)
Excellent institutions of higher education (Ranking of local university)
Recreational opportunities (Number of visitor recommended very good or excellent parks and outdoor activities)
Quality of life (Crime rate, Air Quality, Average time to commute to work, and Number of visitor recommended very good or excellent neighbourhoods and landmarks)
Housing Affordability
Number of Fortune 500 companies
Based on this analysis, the ranking of the cities best suited to meeting Amazon's requirements is:
1. New York
2. Chicago
3. Dallas
4. Boston
5. Washington
It's unlikely that New York, one of the densest and developed cities in the world, would be able to meet the land requirements or offer Amazon the tax incentives they are looking for. Which means, based on Resonances's analysis, that the winning city will likely be one of the next four on its list.
Besides having the poetic attribute of already being The Second City, Chicago has already lured another major Seattle company to move their headquarters to the midwest. Boeing moved there in 2001.
Of course this is about more than a city's attributes. It will also come down to the most compelling real estate and tax incentive package, which is why Amazon is playing this game. Dozens of cities will invest countless hours preparing their proposal when Amazon likely already has a similar shortlist to Resonance's.
What can be taken away from this whole exercise is the growing importance quality of place plays in luring new companies, large or small, to cities today. Many of the factors identified by Amazon in its RFP are the very factors Resonance measures in their America's Best Cities report.
So while the efforts of many economic development teams in the weeks to come may be fruitless in this particular pursuit, it should be instructive for them in developing a better understanding of the factors and criteria that site selectors and talent are increasingly going to be looking for in the future.
About Resonance Consultancy
As leading advisors in real estate, tourism and economic development for three decades, Resonance Consultancy combines business strategy and marketing creativity to shape the future of destinations and developments around the world. Our services span development strategy, place branding, place marketing and placemaking. To date, our team has completed more than 100 visioning, strategy, planning and branding projects for destinations and developers in more than 70 countries. To learn more about us and our services, please visit ResonanceCo.com or contact Sara J. Fahy, Vice President Strategy & Communications, +1 949 887 4476 or sfahy(at)resonanceco(dot)com.