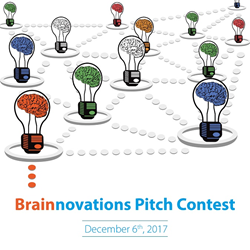 We are honored to count on such a distinguished and cross-sector 'Sharp Tank' to select the most promising startups in the digital brain health and neurotech space
Washington, DC (PRWEB) October 04, 2017
In order to spark innovative collaborations between brain scientists, technologists and entrepreneurs worldwide, independent market research firm SharpBrains has launched a Brainnovations Pitch Contest open to startups harnessing brain research and emerging technologies to help every human being thrive in the digital age.
The Call for Submissions is open until October 31st, 11 PM US Pacific Standard Time. 12 Finalists will pitch at the 2017 SharpBrains Virtual Summit: Brain Enhancement in the Digital Age (December 5-7th, 2017)
"We are honored to count on such a distinguished 'Sharp Tank' to discuss and select the most promising startups in the digital health and neurotech space," says Alvaro Fernandez, SharpBrains' CEO & Editor-in-Chief, who will co-facilitate the contest with Dr. Bob Bilder, Director of the UCLA Tennenbaum Center for the Biology of Creativity.
________________________
The Top Brainnovations in Healthcare will be judged by:
o Dr. Adam Haim, PhD, Chief of the Small Business Innovation Research (SBIR) and Small Business Technology Transfer (STTR) Programs at the National Institute of Mental Health (NIMH)
o Dr. David Barash, Chief Medical Officer and ED of Global Health at GE Foundation
o Dr. Edward Kliphuis, Investment Director at Merck Ventures
o Dr. Karen Postal, President of the American Academy of Clinical Neuropsychology (AACN)
________________________
The Top Brainnovations in the Workplace will be judged by:
o Charlie Hartwell, Operating Partner at Bridge Builders Collaborative
o Danny Dankner, CEO and Co-founder of Applied Cognitive Engineering
o Lisa Neuberger, Managing Director of Strategy + Innovation at Accenture Corporate Citizenship
o Kathleen Herath, Associate Vice President Health & Productivity at Nationwide Insurance
________________________
The Top Brainnovations in Education will be judged by:
o Bill Tucker, Senior Advisor to the K12 Education Program at the Bill & Melinda Gates Foundation
o Eduardo Briceño, CEO and Co-founder of Mindset Works
o Neil Allison, Director of Business Model Innovation at Pearson North America
o John Cammack, Angel Investor
________________________
The Top Brainnovations for Quality of Life will be judged by:
o Alexandra Morehouse, Chief Marketing Officer at Banner Health
o Ariel Garten, Founder and Chief Evangelism Officer at InteraXon
o Dr. Bill Reichman, President and CEO of Baycrest
o Colin Milner, Founder and CEO of the International Council on Active Aging (ICAA)
o Zack Lynch, General Partner at JAZZ Venture Partners
________________________
ABOUT THE 2017 SHARPBRAINS VIRTUAL SUMMIT: BRAIN ENHANCEMENT IN THE DIGITAL AGE (DECEMBER 5-7TH)
The Summit is a fully online 3-day gathering featuring over forty of the world's top experts and innovators working on ways to enhance brain health and performance in light of emerging neuroscience and digital technologies. The Agenda addresses questions such as Will we soon have an "annual brain check-up" — and what may it look like? How can we harness lifelong neuroplasticity to thrive in the digital age? Under what conditions may specific brain stimulation/ training/ enhancement methods work to boost cognitive skills? How can digital platforms and artificial intelligence (AI) enable Mental Health 2.0? Which firms, technologies and solutions are gaining the most traction, and what are best practices for appropriate use?
Summit Sponsors include: AARP, VieLight, The Alzheimer's Research and Prevention Foundation (ARPF), the Arrowsmith Program, Banner Health, EMOTIV, and Lumosity.
Summit Partners include: Aging 2.0, BrainFutures, the Neurotechnology Industry Organization (NIO), MIT Solve, the Ontario Brain Institute (OBI), Neuroscape, NeuroTechX, the Center for BrainHealth at UT-Dallas, and the National Core for Neuroethics at the University of British Columbia (UBC).
________________________
ABOUT SHARPBRAINS:
SharpBrains is an independent market research firm tracking health and well-being applications of brain science, with special emphasis on non-invasive neurotechnology digital brain health assessments, diagnostics, therapeutics and educational/ wellness applications. The company maintains a biannual state-of-the market report series, produces an annual global and virtual professional conference, and maintains a consumer-facing guide, The SharpBrains Guide to Brain Fitness. SharpBrains.com, the company's blog, is one of the most popular brain blogs, full of information, resources and also brain teasers for adults of any age.