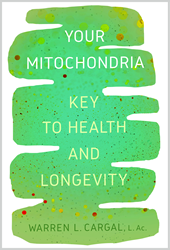 "The book provides a well-researched and proven plan to increase your mitochondria's energy levels naturally to enjoy a healthy aging process." Dr. Robyn Benson, DOM, Author The Healthy Conscious Traveler and founder of The Self Care Revolution
Hoboken, New Jersey (PRWEB) October 05, 2017
• Imprint: Big Boost Media

On Sale: October 2, 2017
Price: $9.95
ISBN: 978-0-9916155-3-7
Warren Cargal delivers a simple but profound message in his maiden book Your Mitochondria: Key To Health and Longevity. He notes Everyone ages but not everyone ages well. Cargal thankfully follows this omen up with some critical guidance on how we can all live longer and better by simply taking care of the billions of mitochondria that exist in our bodies.
These little-known organelles are essential to our wellbeing, especially as we age. Mitochondria are, in fact, tiny power plants that produce the vast majority of our body's energy. Healthy mitochondria also slow the aging process and keep certain age-related issues at bay. In turn, impaired mitochondria induce fatigue, memory loss, musical and joint pain, arthritis and impair immune systems that can contribute to various cardiovascular and neurodegenerative diseases as well as cancer and other issues.
Your Mitochondria is a must-read book for anyone who wants a healthier lifestyle. The book provides a deep dive into the relationship between mitochondrial health and cardiovascular diseases, cardiometabolic syndrome, neurodegenerative diseases, arthritis, cancer, and the aging effects on the skin, eyes, and muscles.
Well researched and accessible, Your Mitochondria also offers easy steps related to proper breathing, eating and exercise to build and grow healthy mitochondria.
Want to live longer and live better?
Want to stave off age-related diseases?
Want to look younger and maintain vitality?
Read Your Mitochondria – Start Living Better.
ABOUT THE AUTHOR: Warren L. Cargal, L. Ac. is a leader in his field, specializing in age-related diseases tied to diabetes, cardiovascular and neurodegenerative issues, and cancer. He is a licensed acupuncturist and herbalist and is also founder and clinical director of Acupuncture Atlanta. He has practiced Chinese medicine for over 20 years and hundreds of men and women during this time.
Praise For Your Mitochondria
"The book provides a well-researched and proven plan to increase your mitochondria's energy levels naturally to enjoy a healthy aging process."
Dr. Robyn Benson, DOM, Author
The Healthy Conscious Traveler and founder of The Self Care Revolution
"This information will be invaluable for those who would like to use mitochondrial enhancement therapies to improve their general health and to extend their longevity."
Dr. Thomas N. Seyfried, Author
Cancer as a Metabolic Disease: On the Origin, Management, and Prevention of Cancer
"His splendidly approachable writing will powerfully allow non-biologists to appreciate the efforts that specialists are making in the pursuit of what is now, and arguably has always been, the foremost goal of humanity: the medical defeat of aging."
Aubrey de Grey, PhD, Author
Ending Aging
"Cargal not only carefully explains the mitochondrial essence of aging and illness, but as a traditional Chinese medicine expert suggests herbal, nutraceutical, and vitamin and mineral solutions supporting the most important organelles of our cells — the mitochondria."
Dr. Stephen Sinatra, Author
The Sinatra Solution — Metabolic Cardiology