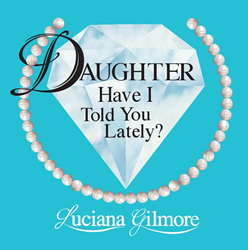 Los Angeles, CA (PRWEB) October 04, 2017
Mother-Daughter relationships can be challenging, complicated, and beautiful. Cleveland, Ohio, high school principal, Luciana Gilmore, wants to encourage and empower mothers to build strong relationships with their daughters. In her new book, Daughter, Have I Told You, Lately? A colorful, photo book with inspirational mother-daughter messages to initiate and enhance the communication and keep it open.
"As mothers, our greatest joy is our children. However, when the child is a daughter, the relationship has an added element," says Gilmore. Her approach in engaging mothers and daughters is using the practical life experiences she encountered as a daughter, mother, and educator.
"Daughter, Have I Told You Lately is a powerful collection of honest, open dialogue necessary to a healthy and loving mother-daughter relationship. Gilmore has uncovered an important an important conversation that will positively impact generations to come. Her legacy of love will warm your heart and engage your soul as you contemplate your relationships. This book is a must have for every library!" Sonia Jackson Myles, Founder & CEO, The Sister Accord LLC
Experiencing trying times with her mother, Gilmore began writing words to her daughters; the words she wished she heard as a young girl. Such as, "Daughter, have I told you lately that all your dreams are possible." "Daughter, have I told you lately that you are the best part of me." "Daughter, understand that you have purpose, daily pursue that purpose relentlessly."
Gilmore is the mother of two daughters, one son, and an educator for more than 15 years. Her inspiration for the book is a personal journey of rearing her daughters and being a principal in one of the largest high schools in Cleveland, Ohio, where she mentors young girls. Her book compliments her greeting card line, Gilmore Girls Greetings. The greeting cards resonate with mothers and daughters from a real place of need. They provide a vehicle for communication and help eliminate the barrier that may have prevented the conversation from taking place. Gilmore resides in Cleveland, Ohio with her three amazing children.
The book is available at http://www.knowledgepowerinc.com/daughter_have_I_told_you.html
Softcover: ISBN: 978-0-9981701-6-9, $19.95
For a review copy of Daughter, Have I Told You Lately or an interview with the author, Luciana Gilmore, please contact, willa(at)knowledgepowerinc(dot)com, 661-513-0308,
Mobile-661-621-4419.