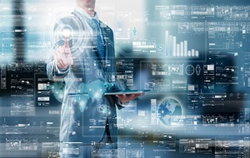 Boulder, Colo. (PRWEB) October 04, 2017
Enterprise Management Associates (EMA), a leading IT and data management research and consulting firm, today announced it will host a webinar titled "Advances in User Performance Management: Helping Network Operations Transform Reactive Workflows to Increase User Productivity," featuring Shamus McGillicuddy, senior analyst of network management at EMA, Anand Srinivas, CTO from Nyansa, and GT Hill, director of technical marketing from Nyansa.
Enterprise network operations and IT organizations struggle to assure a high quality of experience on the network. Device diversity, increased mobility, and cloud-based applications all conspire to obfuscate a network manager's view into end user experience, from the time clients connect to the network to the time they access applications and everything in between.
During this webinar, McGillicuddy, Srinivas and Hill will discuss how new technology innovations in the area of network analytics are helping enterprises to reduce optional costs while assuring superior user experience.
The webinar is Wednesday, October 18 at 1:00 p.m. Eastern. Those who wish to attend can register at: http://research.enterprisemanagement.com/advances-in-user-performance-management-webinar-pr.html
About EMA
Founded in 1996, EMA is a leading industry analyst firm that specializes in providing deep insight across the full spectrum of IT and data management technologies. EMA analysts leverage a unique combination of practical experience, insight into industry best practices and in-depth knowledge of current and planned vendor solutions to help clients achieve their goals. Learn more about EMA research, analysis and consulting services for enterprise line of business users, IT professionals and IT vendors at http://www.enterprisemanagement.com or blogs.enterprisemanagement.com.