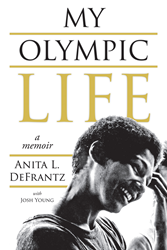 "I always wanted to be somebody. If I made it, it's half because I was game enough to take a lot of punishment along the way." The other half is because I really had no other choice.
Los Angeles, CA (PRWEB) October 04, 2017
Anita L. DeFrantz is a Bronze medal-winning Olympic rower; Attorney; Activist; Vice President of the International Olympic Committee; Multiple Sclerosis fighter; Speaker; and Humanitarian. She has been a trailblazer as an Olympic athlete, during a time when women - especially women of color - were invisible.
Today, DeFrantz unveils her fascinating life and significant accomplishments in her new book My Olympic Life: A Memoir. Readers will find this modern-day heroine provides a wealth of inspiration and encouragement in these pages, and not just for current and aspiring athletes, women and minorities.
Gloria Steinem said, "Just reading My Olympic Life will make your heart race, your mind expand, and your hopes rise. That's the kind of life Anita DeFrantz has lived, as a child in an activist family, an Olympic champion fighting for fairness, and a leader challenging limits of race and sex. Everyone needs her story..."
With unwavering tenacity, Anita L. DeFrantz has fought against sexual harassment, helped to change outdated gender verification rules, cracked down on doping, influenced new eligibility requirements, and helped maintain the integrity of the Olympic Movement. She even took on President Jimmy Carter when he tried to use the Olympics as a political forum during the Cold War.
Surely, it is DeFrantz's boldness, clarity of vision and personal courage that has led this exemplary woman to rise to become the seventh-ranking member in seniority of the International Olympic Committee (IOC). She currently serves on the IOC Executive Board, and as one of the IOC's four Vice Presidents.
In this riveting book, co-authored with five-time New York Times bestselling author Josh Young, DeFrantz reveals how she emerged from racist threats during her Indiana childhood to exhibiting unwavering leadership and ever-growing influence in Olympic circles to fight sexual harassment and racism, grow women's Olympic sports, influence new eligibility requirements, change outdated gender verification rules, and more. She even delves into hot-button Olympic issues like doping and political scandals.
Reading My Olympic Life will reveal why DeFrantz has been named one of the "150 Women Who Shake the World" by Newsweek and one of the "101 Most Influential Minorities in Sports" by Sports Illustrated.
Much more than a celebration of advancements in women's or civil rights, more than a tale of her Olympic victories, My Olympic Life reveals how one motivated, courageous, and passionate person can truly help change the world.