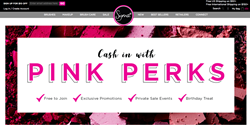 Zinrelo's loyalty rewards program is a fantastic tool for 360 degree customer engagement. We're thrilled that our new loyalty rewards program is delivering a new way for our customers to engage and be rewarded for their brand loyalty. - Celeste Bosn, Director of Marketing at Sigma Beauty
Sunnyvale, CA (PRWEB) October 03, 2017
Global beauty company Sigma Beauty is using Zinrelo's 360 degree loyalty rewards program to rapidly build up a base of customers who are highly engaged with its brand.
Sigma Beauty has grown into a global company since its launch in 2009. Now, the company is looking to ensure that its customers don't just receive outstanding products, but also engage with and remain loyal to its brand. To aid this, Sigma Beauty launched the 'Pink Perks' loyalty rewards program to maximize customer engagement and retention on its website.
Customers who enroll for the 'Pink Perks' program enjoy a range of exclusive benefits. These include special product promotions, private sale events and birthday treats. The free-to-join loyalty program awards customers with loyalty points for multiple interactions on the website such as 50 points for account creation, 1 point for every $1 spent for purchases, 50 points bonus for referrals and 20 points for birthday bonus. In addition, a 'Winback bonus' of 50 points is also offered to inactive users who make a purchase during the specified offer period. Each 100 points that the customer earns equates to $10 that can be redeemed for gift cards valued at $10, $25, $40 and $60.
To continually engage and update its customers further on points earned, redemption options and tiers, Sigma Beauty leveraged the program's built-in notifications tool to send out email notifications to users of the 'Pink Perks' program. These notifications achieved an impressive 70% open rate and a 15% click through rate.
"Zinrelo's loyalty rewards program is a fantastic tool for 360 degree customer engagement," commented Celeste Bosn, Director of Marketing at Sigma Beauty. "The system was easy to implement and integrate with our existing website. Engagement rates have been very impressive, which is an evidence of customer satisfaction. We're thrilled that our new loyalty rewards program is delivering a new way for our customers to engage and be rewarded for their brand loyalty."
The enterprise-grade Zinrelo loyalty rewards program offers a host of ways for companies to maximize their customer engagement, retention and revenue. Businesses can reward their customers for making purchases, referrals, product reviews, photo uploads, email sign ups, social advocacy and much more. The program is fully customizable, with a pay-as-you-go pricing model, so that companies can tailor their loyalty program to their precise requirements.
Custom email notifications, a highly scalable platform and a powerful business rules engine all contribute to the system's outstanding results. The business rules engine provides companies with ultimate flexibility to maximize marketing promotions and to determine the number and range of tiers, the breadth of points-earning activities, the number of points awarded, maximum frequencies, approval policies and more. Meanwhile, omni-channel support ensures that the program is available for desktop and mobile web use, mobile apps and in-store (POS) use.
"The Zinrelo loyalty rewards program is the next-generation solution for businesses that want to completely engage their customers and drive forward their loyalty, engagement and retention," stated Samir Palnitkar, Founder at Zinrelo. "The system is simple for customers to use, with a fully flexible dashboard function. It's also a breeze for companies to implement, while ROI-based reporting means they can quickly and easily assess the loyalty reward program's impact in real-time."
About Sigma Beauty:
Sigma Beauty was founded in 2009 by Brazilian natives Rene Xavier Filho, a civil engineer with a Master of Business Administration degree, and Simone Xavier, a veterinarian and researcher with a Ph.D. in Molecular Biology. Sigma Beauty's product development has been highly influenced by its founders' background in engineering and research. Forward solutions, function and quality are the cornerstones of Sigma's products, and what sets the company apart from traditional cosmetic companies. Sigma Beauty has introduced many revolutionary new concepts for makeup application and brush care to beauty enthusiasts. Its high-quality cosmetics, visionary brush designs and state of the art brush care accessories have secured Sigma Beauty's position as a leader in innovation, and are available at more than 250 global retailers. For more information, visit SigmaBeauty.com.
About Zinrelo:
Zinrelo brings you the world's best loyalty rewards and referral programs, helping to maximize revenue per customer and new customer acquisition through 360-degree customer engagement. It supports omni-channel interactions including desktop web, mobile web, mobile apps and in-store engagements.
Zinrelo loyalty rewards program boosts per-customer revenue by 2.4 times and repeat purchases by 80%. It creates fiercely loyal customers that are rewarded for all forms of engagements including purchases, social advocacy, reviews, sign-ups, referrals, photo sharing and more. It is fully customizable and is easy to deploy. Zinrelo referral program delivers a 25% uplift in new customer acquisition by converting your customers into brand ambassadors.
To zing your loyalty and referral programs, contact Zinrelo at http://www.zinrelo.com or info(at)zinrelo(dot)com.