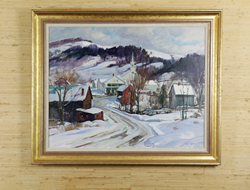 Topsfield, Massachusetts (PRWEB) October 04, 2017
Kaminski Auctions will host two outstanding Fall On-Site Auctions on October 14th and October 21st, 2017. The first auction on October 14th will take place in a spectacular country farm setting starting at 10:00 am at 64 Perkins Row, Topsfield, Massachusetts. The auction features the American antique collection of Dr. and Mrs. Levitsky, a prominent North Shore physician.
On October 21st Kaminski Auctions will hold a second On-Site Auction featuring an outstanding collection of Continental and American antiques at 41 John Wise Avenue, Rt. 133, Essex, Massachusetts at 10:00 am. Contents of the house and a selection of late model cars including a Jaguar and Corvette are included in the sale.
The Topsfield collection on October 14th includes an Aldro T. Hibbard (American, 1886-1972), "Winter Scene in Vermont", oil on canvas. The painting, with the artist stamp verso, measures 34 ¼ inches by 43 inches and is conservatively estimated at $7,000-$12,000.
Additional paintings in the collection include a signed Tomaso de Simone, titled "The Two-Masted American Schooner Neptune", oil on canvas estimated at $3,000-$6,000, a Mersey River Scene, oil on canvas by the Englishman Thomas Buttersworth (May 5, 1768 – November 1842), and a J. Perillo, signed Venetian scene with serenaders, oil on canvas in an elaborate gilt frame.
,
Furniture highlights include a circa 1790 English George III mahogany bow-front chest having two frontal French feet enclosing a bowed inlaid apron with four graduated, beaded drawers and a fine American Hepplewhite mahogany card table with line, and cuff inlay.
The country estate has all the bells and whistles of a gentleman farmer including a spectacular lineup of farm equipment and toys. A pair of black and white painted cows that caught the attention of all the local papers and caused quite a sensation on display at the Kaminski 1850 barn are on offer, as well as other farm "toys" that include a slightly used L3400 Kubota tractor, Scag 48 Advantage lawnmower, interesting architectural fragments from the original Boston City Hospital, as well as an 1936 Old Town canoe and River single scull.
Other highlights include a fine KPM large porcelain wall plaque of a young girl reading, signed H. Meisel lower left, signed P. Barthel lower right and inscribed verso "Im Zwielicht" (In the Twilight), "nach P. Barthel". The plaque measures 10 1/8 inches by 13 ¼ inches, frame 15 ½ inches by 18 ½ inches sight.
There is also an Adelaide Palmer (1851-1928) floral still life, oil on canvas, signed and dated valued at $5,000-$9,000, a circa 1720 rare and important American William & Mary walnut bonnet-top secretary with ancient surface, lovely interior and condition valued at $11,00- $13,000 and two steamer trunks on offer.
The first is a Louis Vuitton, circa 1870s/80s, #20741, owned by W. B. Housley, Bute Court Hotel, Belgrave Blvd, Torquay, U.K., with interior tray and labeled inside while the second trunk found in the Levitsky attic, is a leather trunk marked " Coolidge".
Another item of interest to collectors is a 19th C. Troughton & Simms, London, brass telescope on a wood tripod stand with 13 lenses from the Gundlach Optical Company, Rochester, N. Y. Lettering on the box reads "S. Cooper". The telescope is estimated to bring $2,000-$3,000.
Mid-Century modern collectors will be drawn to a Philip and Kelvin LaVerne "Chan" coffee table with glass top valued at $6,000-$9,000 and a Bernard Katz, 20th-century hand blown vase covered in an autumn leaf pattern, approximately 17 inches high. There are several sets of leather Knoll chairs and a pair of slate topped Knoll tables on offer.
A collection of circa 1900 hand blown Bohemian glass from the Rindskopf factory, and a vast selection of fine antique Persian rugs including an antique Bakhtiari, antique Serapi, Caucasian Shirvans, Sarouks, Keshans and much more round out the highlights of the October 14th auction.
Preview for this auction will take place at 64 Perkins Row, Topsfield, Massachusetts located between Rt. 97 and Rt. 1 on Thursday and Friday, October 12 &13, 2017, 10:00 am-5:00 pm, and the day of the sale starting at 8:00 am. Preview is open while the auction is live.
An Estate Tag Sale will be held Friday and Saturday, October 13 & 14, 2017, 9:00 am-6:00 pm.
Saturday, October 21, 2017, will be another spectacular On-Site Auction at 41 John Wise Avenue, Rt. 133 Essex, Massachusetts. In addition to the late model cars mentioned, there is a vast selection of fine art, continental and American furniture including several birds eye maple dressers, a pair of Neoclassical cabinets, elegant furnishings, porcelain, crystal and an extensive stamp collection. Preview for this auction will take place Thursday and Friday, October 19 & 20, 2017 10:00 am-5:00 pm, and the day of the sale starting at 8:00 am. The preview will be open during the live auction.
For more information on these two exciting Fall On-Site Auctions go to http://www.kaminskiauctions.com and sign up to bid with KaminskiLIVE. Follow us on Facebook and Instagram for live updates from the auction.