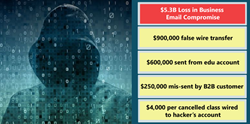 Phishing can result in email compromise. Phish Hunter was developed to detect and prevent email compromise.
Bonita Springs FL (PRWEB) October 05, 2017
Enabling Technologies, focused on Enabling Secure Productivity in the Cloud, has combined Microsoft Security applications with Enabling Intellectual Property to develop the Phish Hunter solution for detection and prevention of Phish Attacks. Phishing is for real. $5.3 Billion was stolen due to Business Email Compromise between 10/13-12/16. By comparison, $1 Billion was lost due to ransomware in 2016, per the Internet Crime Complaint Center.
Enabling Technologies feedback from clients found that sifting through all the information to find a rare breach was too time consuming. Phish Hunter was developed to give administrators a short list of automated actions to remediate.
The combination of Microsoft's tools and Enabling Technologies forensic knowledge to analyze threats, customize rules, and automate responses to targeted attacks. Administrators will get a short list of actionable next steps, and users are left with a clean inbox and less risk. The solution is called Phish Hunter, and is configured in each tenant to minimize business email compromise.
"We are seeing a significant number of our clients moving to the Cloud and they are very concerned about Security. Security conscious organizations appreciate Enabling's ability to mitigate cloud security threats and much as our ability to integrate and migrate applications" said Bill Vollerthum, President of Enabling Technologies Corp.
For more information about the Phish Hunter solution: http://www.PhishHunters.com