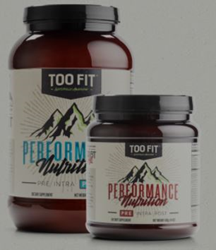 New York, NY (PRWEB) October 03, 2017
Who says you must think outside the box to create a dietary supplement regimen that powers even the toughest workouts?
Too Fit doesn't. The Texas company's new Too Fit Pre delivers adaptogens, Earth-grown nutrients and clinically validated and performance-tested ingredients, including Setria® Performance Blend and Cognizin® Citicoline. Each serving is void of sugar, artificial sweeteners and colors, stimulants and fillers.*
"The focus when formulating the Too Fit Pre was to deliver the highest quality, research-backed nutrients at efficacious dosages. It is much more than a pre-workout. It is a health product designed for active lifestyles that are seeking the cleanest and most effective products to improve their daily life and performance. I always turn to Kyowa when formulating as they continue to produce some of the best raw materials in the world. Kyowa's Cognizin Citicoline helps provide a boost in mental energy, focus, and attention without having to use caffeine or other stimulants. The Setria Performance Blend is great for increasing nitric oxide (NO), and improving blood flow and nutrient delivery. Both of which are vital for improving performance. We are really excited about the Too Fit Pre and look forward to bringing it to the market," say Josh Uptmore, co-founder of Too Fit.
At its core, Too Fit Pre delivers a unique combination of Setria® L-Glutathione and L-Citrulline that increases nitric oxide (NO), which relaxes and widens blood vessels for better blood flow and nutrient delivery. Setria® Performance Blend helps protect against the rapid oxidative destruction of NO.*
Studies have shown that Kyowa's Setria® Performance Blend produces NO twice as effectively and sustains NO blood levels twice as long as comparable doses of L-Arginine or L-Citrulline. In addition, Setria® Glutathione – called nature's master antioxidant – allows for longer workouts by increasing time to fatigue while protecting muscle cells from free radicals and oxidants.*
One body part often ignored in workouts is the brain. Too Fit believes mental energy is just as vital as muscle power, which is why each Too Fit Pre serving contains 250mg of Cognizin® Citicoline. This vital brain nutrient promotes focus and attention and boosts levels of several important neurotransmitters. Better brain function means a better workout.*
Cognizin® Citicoline acts as a catalyst to produce phosphatidylcholine (phospholipids), which are important for proper brain function. Phospholipids make up approximately 30% of brain tissue, aid neural communication and provide essential protection for neurons. Clinical research has shown that citicoline has multiple applications and is able to improve various aspects of the brain's physiological activity.*
Each Too Fit Pre comes with 10, one-serving packets for $26.99. Visit https://toofit.com/collections/supplements/products/too-fit-pre-box for more information or to order.
About Too Fit
Too Fit was founded by The Too Fit Guys, Jake and Josh, in 2015. It all began as a pursuit to properly fuel their active lifestyles with natural and effective supplements. Our mission at Too Fit is to empower and enable you "to actively pursue a state of health and well-being beyond perceived limitations." Our ambition is to elevate your health and performance through innovative products and actionable information to help you exceed the demands of life and achieve your full potential. For more information, visit http://www.toofit.com.
About Kyowa Hakko USA
Kyowa Hakko USA is the North & South American office for Kyowa Hakko Bio Co. Ltd., an international health ingredients manufacturer and world leader in the development, manufacturing and marketing of pharmaceuticals, nutraceuticals and food products. Kyowa is the maker of branded ingredients including Cognizin® Citicoline, Lumistor® L-Hydroxyproline, Pantesin® Pantethine, Setria® Glutathione, as well as Sustamine® L-Alanyl-L-Glutamine. For more information, visit http://www.kyowa-usa.com.
*These statements have not been evaluated by the Food and Drug Administration. This product is not intended to diagnose, treat, cure, or prevent any disease.