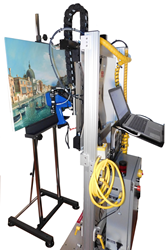 North Augusta, SC (PRWEB) October 05, 2017
DeWitt Systems Incorporated has released the FIRST EVER Automated Vertical 2D Scanning System (Patent Pending) designed to support the Bruker TRACER 5i portable XRF spectrometer. The MPS-400E Mobile Scanner was developed for Art Conservation organizations that needed an economical and mobile solution for performing high resolution Macro X-Ray Florescence scanning (MA-XRF) of art works. This new system operates using the very latest XRF Sensor and computing technologies and provides end users with a variety of data visualization and transformation options. Following data acquisition users can perform on-demand elemental imaging by selecting elements and spectral lines. Additional analysis is supported through data export options that are compatible with various offline analytical tools, including Bruker formats (PDZ and ARTAX), open CSV formats, and full resolution native SQL archival format. The MPS-400E includes options for RGB imaging and relational layering with XRF elemental images. Units are now available for purchase at http://www.dewittsystems.com.
The MPS-400E is delivered in two Pelican Transport Cases and can be assembled in less than 1-hour onsite without tools. Scanning resolutions are independently adjustable for the X and Y axis down to 1mm X 1mm, matching current capabilities available using Bruker TRACER 5i removable collimators. An Offline Data Viewer / Export application is offered with the MPS-400E that allows end users to share native full resolution archival exports with collaborators around the world.
About the Company
Formed in 1999, DeWitt Systems, Inc. specializes in applying the latest technologies and innovation required to provide our customers with highly reliable and robust solutions. Our teams are engaged inside markets requiring special attention towards performance, reliability and regulatory compliance.