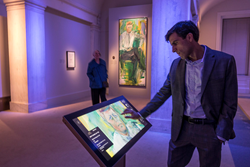 This exhibition lies at the heart of the Portrait Gallery's mission to tell the American story through the individuals who have shaped it.
Corrales, NM (PRWEB) October 05, 2017
Ideum (http://www.ideum.com) announces the installation of the first digital interactive exhibits in the America's Presidents exhibition at the Smithsonian Institution's National Portrait Gallery in Washington, D.C. America's Presidents reopened to the public on September 22, 2017, after nearly two years of renovations. The gallery features three new interactive kiosks that provide a window into the museum's collection of presidential portraits, many of which are not on display. The kiosks allow visitors to explore these portraits in beautiful high-resolution detail, and learn more about many of them.
Working closely with gallery curators and educational staff, Ideum created custom software and kiosks to represent both the artworks and the history of America's presidents. Special collections highlight portraits of the first ladies and artworks by Andy Warhol, George Tames, Peter Hurd, Patrick Oliphant, and Time magazine. The kiosks have unique widescreen ultra high-resolution displays with multitouch capabilities, and Ideum's Industrial Design group collaborated with the Smithsonian exhibit team to design the three custom bronze-colored kiosks to complement the aesthetics of the new gallery space.
"We were thrilled to have an opportunity to work with great team at the Smithsonian to help bring digital interactives into the gallery space for the first time," said Ideum Creative Director and Founder Jim Spadaccini. Visitors use a 3D timeline to move through the decades from the nation's founding to the present. Users can also zoom into paintings to view fine details, rotate and enlarge scanned sculptures and other 3D scanned objects, and investigate special collections and related items. The digital collection includes items found in the gallery, but also hundreds of other pieces not presently on public display. All materials are presented in both English and Spanish.
The new kiosks offer an intuitive user interface and new information to explore, but they are also designed for a modern, dynamic museum environment. Ideum worked with Smithsonian staff to specify the fiber extenders to take the USB and 4K UHD video signals across nearly the entire length of the Portrait Gallery building. Remotely connecting the installation's computers allows staff to easily maintain and update the exhibits. And as with all Ideum products, they were designed and built in the USA to exacting standards, crafted from aircraft-grade aluminum and featuring lockable ports to ensure security.
"We wanted to design and integrate touchscreen technology into this classic gallery in a seamless way, to extend and deepen the visitor experience without competing with the portraits themselves," said Spadaccini. "Ideum is proud to have played a part in giving people new ways to explore this unique historical collection."
Images are available at: https://www.flickr.com/photos/ideum/albums/72157686484998980
A promotional video created by the National Portrait Gallery and featuring the exhibits can be found at: https://www.youtube.com/watch?v=s5WCFVepPS0
About Ideum
Ideum is an innovative design company based in Corrales, New Mexico. The firm focuses on creating the next generation of visitor experiences that blend the physical and digital realms. Along with its Creative Services software group, Ideum designs and produces integrated and hardened large-scale multitouch tables and touch walls for museums, educational institutions, government agencies, and Fortune 500 companies. It has developed multitouch tables and screens since 2008, and its products have been sold in more than 41 countries. For more information, please visit http://www.ideum.com or contact Esther Lombardi at (505) 792-1110 ext.1.
Ideum is a trademark of Ideum, Inc.