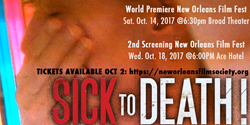 Thyroid disease is THE MOST misdiagnosed disease in medicine
New Orleans, LA (PRWEB) October 05, 2017
The award-winning documentary Sick to Death! which exposes the medical incompetence surrounding the treatment of one of America's most common illnesses as experienced by New Orleans filmmaker Maggie Hadleigh-West, will debut at the New Orleans Film Festival Saturday, October 14, 6:30 p.m. Broad Theater, 636 N Broad St.
On Monday, October 16, 6 to 8p.m. at the Zeitgeist Multi-Disciplinary Arts Center, 1618 Oretha Castle Haley Blvd., Hadleigh-West will lead a public discussion with world renown medical experts about the film's issues surrounding the diagnosis and treatment of thyroid disease.
A second screening will be shown on Wednesday, October 18th at 6 p.m. at The Ace Hotel New Orleans, 600 Carondelet St., a Festival hub.
Sick to Death! has received a Guggenheim Award and three Impact Awards prior to the world premiere at the New Orleans Film Festival.
"Thyroid disease is THE MOST misdiagnosed disease in medicine, " said local physician Dr. Charles Mary II.
"I cried when I realized I should have been diagnosed as a child, but when it dawned on me that millions of people were sick, undiagnosed or misdiagnosed despite medical information, I was angry and change became my mission." said Hadleigh-West. "The purpose of the film is to expose the problem through many people's stories, experts, historians and statistical data."
In Sick to Death! Hadleigh-West unflinchingly exposes her 30-year struggle to regain her health. Sick to Death! is both a call-to-action and a quirky, raw film which examines the maze most patients face in seeking treatment in today's disturbing medical reality.
Tickets for Sick to Death!: neworleansfilmsociety.org; For more information on Sick to Death! go to: Sick2death.com
About Maggie Hadliegh-West: Maggie Hadleigh-West is a 2017 Impact Doc Awards winner, a 2013 Guggenheim Fellow Award Winner, 2010 Indie Fest: Audience Impact Merit Award Winner, 2010 Accolade Merit Award Winner, 2009, 2006, and 2005 Alcyon Foundation Fellow, a 2004 New York State Council on the Arts Fellow, 2001 University of Louisville Distinguished Professor Nominee, 2000 Rockefeller Fellow Nominee and a 1998 Berlin Film Festival Caligari Nominee. Over the course of her career, Maggie Hadleigh-West has been internationally recognized as an activist, independent filmmaker, public speaker and the founder of YoMaggie Productions, LLC. Sick to Death! Is her 5th film. Her fourth film, and second feature documentary Player Hating: A Love Story follows the life of hip-hop artist Half-a-Mill as he struggles to escape ghetto obscurity for fame. Her well known feature length documentary, War Zone, covers the public harassment of women, turning the lens of her camera on her harassers.