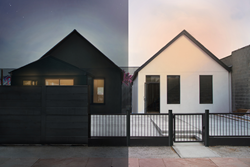 On a good night, eating out should be satisfying in all the ways you might expect, but on a great night it should be satisfying, amazing, and perhaps even surprise the hell out of you.
Denver, CO (PRWEB) October 04, 2017
Nationally-acclaimed chef, Duncan Holmes, along with the founder of 34º Crisps, Craig Lieberman, are opening two new restaurant concepts in the edgy River North (RiNo) neighborhood of Denver, Colorado. Beckon | Call will be located in two adjacent houses at 2843 and 2845 Larimer St.
The first to open is Call, a progressive kitchen nestled inside an unassuming house that stretches the perception of a traditional restaurant. Call will deliver unique experiences throughout the day and evening with an underlying culinary focus on what is fresh, vibrant, and craveable. The house will feature custom stadium seating during the day that retracts in the evenings to create a space for intimate tables. Steel-coated surfaces and crisp colors add to the stylish vibe from the moment diners enter the door. A backyard offers an additional seating area perfect for summer evenings as well as communal space for group gatherings. The large front patio area capitalizes on the vitality of RiNo and will serve as the portal to Beckon, an evening chef's counter in the adjoining house, opening in the spring of 2018.
"I have a lifelong passion for bringing people together around great food. When these houses became available," said Lieberman. "I knew they were the ideal place to recreate the kind of intimate experiences that I have enjoyed during my travels throughout Europe and other parts of the world. Simple and delicious food in an atmosphere where people can gather, meet, and foster the connections so often missing in our busy society."
When it comes to pushing the boundaries of food, Culinary Director and Executive Chef, Duncan Holmes has always cut against the grain. From his career beginnings in the Napa Valley where he worked at La Toque and Auberge Du Soleil, to time spent in Scandinavia, Holmes has used his experiences to create food that's genuine and inspired. Upon his return to the Bay Area he worked as chef de cuisine at Sons & Daughters where he led the kitchen when the restaurant received their Michelin-starred status. Most recently, Holmes served as the Culinary Director at Frasca Food and Wine in Boulder, Colorado.
It should come as no surprise that this young chef's latest evolution takes place at the center of Denver's exploding food scene. "This venture is especially exciting for me because the entire team is willing to take chances and experiment," said Holmes. "On a good night, eating out should be satisfying in all the ways you might expect, but on a great night it should be satisfying, amazing, and perhaps even surprise the hell out of you as well."
Rounding out the leadership team is Allison Anderson. Coming from a seven year commitment as the bar manager at Frasca Food and Wine in Boulder, Co., her role at Call will allow a demonstration of her abilities in hospitality as the Director of Experience. While she looks to markets like New York and San Francisco for inspiration and trends, she is a native of Denver and has a history of working and living in the RiNo neighborhood, so is thrilled to return to this thriving community and contribute to its growth.
The development of the concepts was guided by Id Est Hospitality which is led by Kelly Whitaker, renowned chef of Basta in Boulder, Colorado and co-founder of Noble Grain Alliance. The group advised and consulted on the management and foundational ideas of the two concepts.
For additional information on the restaurant, contact press(at)beckon-call(dot)com.