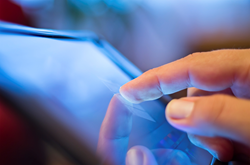 Our clients are developing inventive new concepts that utilize state-of-the-art technology.
Dallas, Texas (PRWEB) October 04, 2017
DAVACO, Inc. (http://www.davacoinc.com), the North American leader of high-volume programs for retail, restaurant and hospitality brands, announced today that the company offers a unique and highly sought after expertise that provides a comprehensive solution for chain-wide technology deployments. DAVACO has seen a significant increase in technology upgrades and integration initiatives being rolled out over the last few years, particularly for consumer brands with retail stores, restaurants, hotel properties, automotive dealerships, financial services, pharmacies and other brick-and-mortar consumer-oriented venues.
"Brands are focusing on the individual consumer experience to create a dynamic and branded selling environment that captures the attention of their audience and keeps them engaged throughout their shopping journey," said Rick Davis, Founder/CEO, DAVACO. "Our clients are developing inventive new concepts that utilize state-of-the-art technology, and they need a strategic partner to help them quickly and efficiently take an entire initiative into every location."
In response to the growing need for qualified resources, DAVACO established a dedicated technology division in 2015 and has since completed thousands of technology installations involving digital signage, digital menu boards, interactive/self-service kiosks, POS systems, wireless power charging, beacons and other power-required programs. DAVACO's teams of project managers work closely with field execution teams, logistics and support experts to implement all program requirements including: program development, site survey/existing conditions data collection, scope development/budgeting, hardware sourcing, logistics and consolidation, site preparation/installation, and on-site content verification to final sign-off.
"Whether brands are implementing a single technology rollout or a multi-faceted remodel program that features elements of technology, DAVACO is the best, most experienced company to manage and execute these complex program," said Davis. "Because of our recent merger with Crane Worldwide Logistics, our comprehensive and integrated services can start with purchase order management and visibility to inventory all the way to each location. These deliveries are then synchronized to a schedule with our field teams, ensuring high-quality and timely installations which enables us to maximize the time spent on site providing efficiencies for speed-to-market brand-driven initiatives."
Since 1990, DAVACO has provided a broad offering of solutions specifically developed to facilitate change across a brand's chain of locations. More information on DAVACO's services is available at http://www.davacoinc.com or info(at)davacoinc.com.
About DAVACO, Inc.
DAVACO is the leading total solutions provider of high-volume remodel, reset and rollout programs for retail, restaurant and hospitality brands throughout North America, including: ▪ Program and project management ▪ Fixture, equipment and graphic installations ▪ Digital signage and technology upgrades ▪ Hard and soft-line merchandising ▪ Site, marketing and pre-construction surveys ▪ Logistics and consolidation ▪ Design coordination ▪ Facilities maintenance programs ▪ ADA, safety and quality audits & remediation ▪ Sustainability ▪ Fixture and graphic manufacturing partnerships ▪ Special initiatives. Founded in 1990, DAVACO is based in Dallas, Texas and operates offices in Toronto, Ontario. In 2017, DAVACO merged with Crane Worldwide Logistics, a premier global provider of customized logistics solutions with an established worldwide footprint of over 100 offices in 25 countries. This unique and strategic partnership provides a more complete and global solution, including inventory management and 'just in time' delivery of FF&E to support any brand initiative. DAVACO employs over 1,000 W-2 and T-4 employees across North America. info(at)davacoinc.com http://www.davacoinc.com info(at)davacoinc.ca http://www.davacoinc.ca.